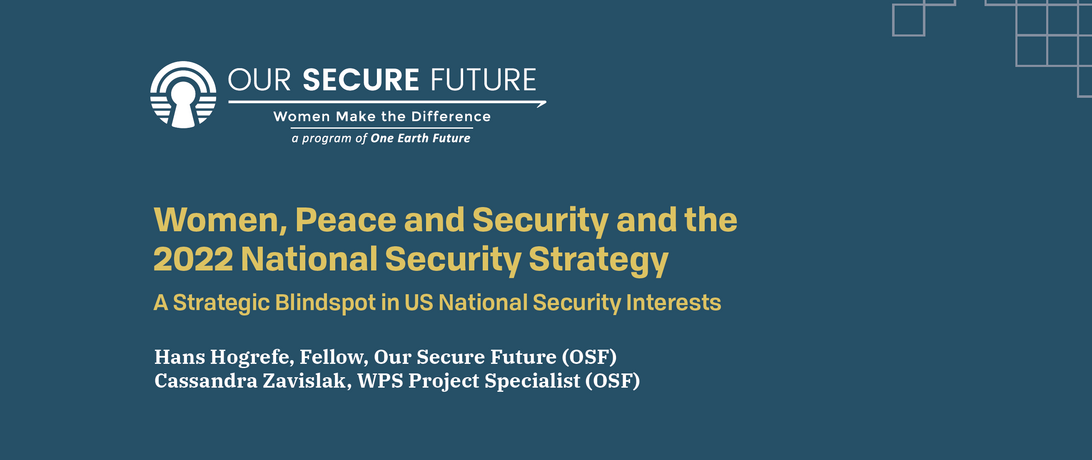 This brief examines the inclusion of the Women, Peace and Security agenda in the Biden Administration's 2022 National Security Strategy, and compares it to the ways in which the Trump Administration's 2017 National Security Strategy addresses the full participation of women in our national security interests.
Key Points
Gender equality is a strategic blindspot in the US National Security Strategy (NSS) of 2022 because there is very little attention to gender equality as a strategic interest.

The overall approach to Strategic Competition with China and Russia as outlined in the 2022 NSS is gender blind.

Women's agency in conflict prevention, mitigation and recovery is not explicitly advanced by the 2022 NSS, however it does address economic, health and protection issues such as sexual and gender based violence.

Women, Peace and Security is at best alluded to (once) in the context of the Global Fragility Act. The WPS Act of 2017, the GFA Act of 2020 and the Elie Wiesel Genocide and Atrocities Prevention Act of 2020 are all complementary and reinforce each other. The Women, Peace and Security agenda (WPS/UNSCR 1325) predates the US Global Fragility Act (GFA) by two decades.