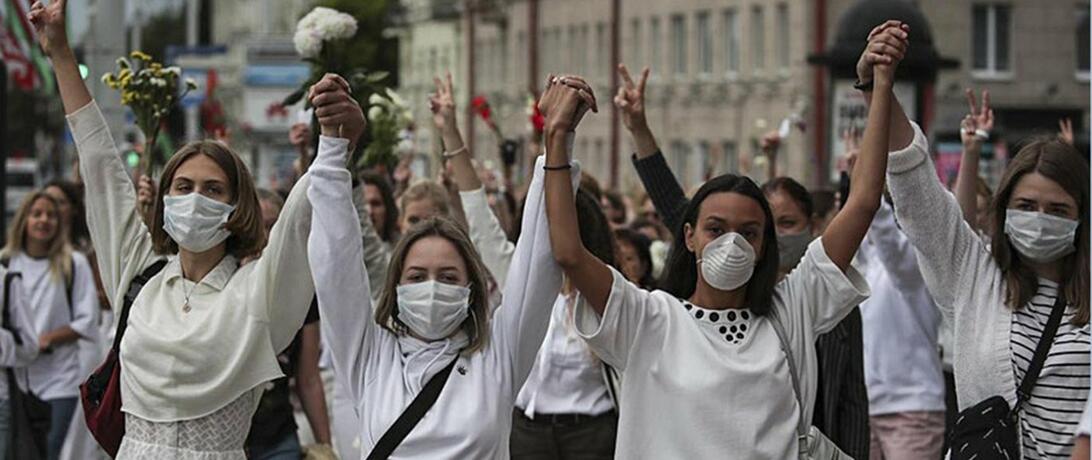 Women are leading the change in calling for change in Belarus. Panelists from a recent event hosted with the McCain Institute, discuss the recent events.

On Tuesday, September 1st 2020, in partnership with the McCain Institute, Our Secure Future co-hosted the event "Women, Peace and Security: The Role of Women in Belarus" to highlight the role women are playing in the historic protests, what they are calling for, and how the international community can support their efforts. Introductory remarks by Paul Fagan, Director Human Rights and Democracy Programs at the McCain Institute and Sahana Dharmapuri, Director of Our Secure Future were followed by a panel discussion, moderated by Natalia Arno, Founder & President, Free Russia Foundation. Panelists included: 
Olga Karatch, Director of the International Center for Civil Initiatives, Our House, Belarus
Olena Suslova, Human Rights & Gender Activist, Ukraine
Hanna Liubakova, Deputy Director of the Eurasia Center, Atlantic Council  
Sofya M. Orlosy, Senior Program Manager, Freedom House
As we have seen around the world time and again, women are on the frontlines pushing for change in Belarus. Belarusian President, Alexander Lukashenko, has been in power for 26 years. Often named the last dictator of Europe, his decades long autocratic rule has finally been legitimately challenged…by three women. After several male candidates for president dropped out or fled the country, three women stepped in calling for free and fair elections. Since the election that saw President Lukashenko fraudulently win with over 80% of the vote, people have been taking to the streets calling for his resignation. Women continue to lead the charge. 
The diversity of the panelists provided a rich discussion and analysis of what is happening now, how women are involved, what the U.S. government's response has been, and how it can help support their efforts. 
Olga Karatch first spoke about how it got to this point and why. She compared Lukashenko's presidency to a domestic abuser who uses all forms of manipulation to get the population to support him. She noted Belarus is "trying to get a political divorce from the first President." She went on to say the Belarusian state is dead because none of the institutions are functioning including the police, courts, and local administrations. This combined with Lukashenko's mishandling of Covid-19 decreased his support among the people. Now anyone who supports him becomes "absolutely toxic for the Belarusian society". In addition, she noted that support for Russian President Vladimir Putin, who has always been the most popular politician in Belarus, has gone down dramatically because of his support for Lukashenko making it a ripe time to push for democratic reforms.
Women are pushing for democracy and asking for the international community to support their efforts. In Olga's view, the hope is to create a Belarus that is led by a pro-Western politician who will be "able to carry out all necessary democratic reforms." She went on to provide concrete recommendations on how the international community can support these efforts including opening the West for the people, but closing it to Lukashenko, placing sanctions on Lukashenko, stopping humanitarian and technical assistance to the state structures as it ultimately goes to supporting the repressive state police, and openly supporting the democratic choice for President.
Olena Suslova followed Olga Karatch's remarks and provided a regional perspective given her extensive work on WPS in Ukraine about the obstacles they faced in ensuring women's participation. She spoke to three challenges including lack of participation and representation, particularly in the security sector; traditional gender roles and norms that relegated women to less influential roles; and patriarchy versus gender equality where the fight for gender equality provoked anti-gender groups who pushed for the continuation of patriarchal systems. 
Finally, Olena noted the importance of creating a National Action Plan on UNSCR 1325 as a way to mainstream gender and create early warning systems to help prevent conflict.    
Hanna Liubakova spoke next and elaborated further on the current situation in Belarus and more specifically how women have been involved in the uprising. Reiterating Lukashenko's bungled Covid-19 response as a reason for the uprising, Hanna also noted how women in Belarus had been pushing for greater equality for some time. So when three women stepped up to push for change, Lukashenko and his allies were unprepared for the overwhelming support they received. She noted that Lukashenko spoke openly about how Belarus was not ready for a female president, which further emboldened women to go out into the streets. 
She went on to talk about how women have changed the form of protests. They are coming "out into the streets and protecting men in a way." Holding white ribbons, women have created a solidarity chain called the women in white. They are calling for the release of political prisoners and an end to the brutal violent crackdown against protestors. Overall, she stated, Lukashenko and his allies severely underestimated the rise of feminism in Belarus and how the society was open and eager for women to take the lead. 
Sofya M. Orlosy rounded out the panel discussion talking about the U.S. government's engagement or lack thereof in Belarus. Thus far, the U.S. government has been mostly absent. The State Department put out a statement, but it was largely missed because it was not very strong in message. Certain senators have been engaged and many have denounced the violence, but overall support for the uprising has been limited. 
Sofya gave concrete recommendations on what the U.S. could do to show its support including inviting the main female opposition leader, Svetlana Tikhanovskaya, to meet with members of Congress, taking more punitive action such as sanctions through the Belarus Democracy Act of 2004, confirming the Julie Fisher as U.S. Ambassador to Belarus, who could show her support for women, pushing the Belarusian government to allow access to the country to the Special Rapporteur, and directly supporting women's groups on the ground. 
It is critical at this moment in Belarus' history that women are supported to bring about change. The challenges they face in creating and implementing democratic reforms and ensuring their meaningful participation throughout are numerous. The international community must capitalize on this moment to help create that change. As Olga stated, Russia is already capitalizing on the unrest because the West is absent. The U.S. has the opportunity to show itself as a leader for Women, Peace and Security in Belarus and around the world by unequivocally supporting women on the ground and pushing for their participation now and throughout the transition.