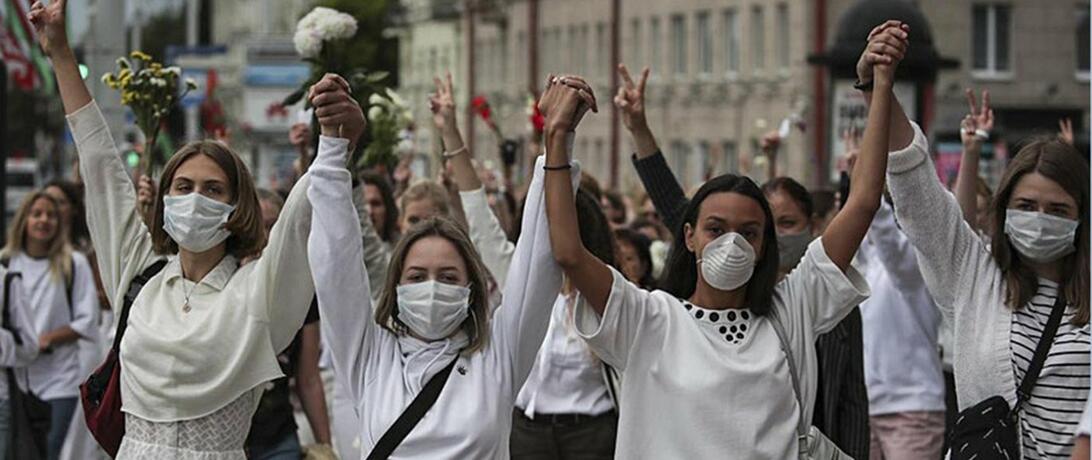 Virtual panel discussing women's leadership of recent protests against President Lukashenko in Belarus.

Together with the McCain Institute, Our Secure Future hosted a virtual event discussing the recent protests in Belarus over the fraudulent election earlier this month. Longtime President Aleksandr G. Lukashenko retained power, but the protests are the largest in the country's history. They have been met with violent repression and widespread arrests. One important aspect of the current pro-democracy demonstrations is that women have been at the forefront of the political opposition and leading the protests in the streets.
Lukashenko is regularly referred to as Europe's last dictator, but he has recently lost support from many of his historic allies, including the Kremlin. Most importantly, he has completely lost the support of the people of Belarus who have called for his resignation since the August 9 election. Hundreds of thousands in all corners of Belarus have joined the movement calling for an end to police brutality against protesters and a change in presidency.
On the ground in Belarus, thousands of women organized to create human "Solidarity Chains" which have been replicated across Europe in Germany, Poland, Belgium, Ukraine and Russia. Politically, women are also at the forefront of the revolution as the leading opposition candidate Svetlana Tikhanovskaya, was forced to join the race after her husband, the original candidate, was arrested and had his bid for office rejected by Belarusan authorities. Following the election she was forced to flee the country and remains in refuge in neighboring Lithuania.
Check out the video below to hear Natalia Arno, Melinda Haring, Olena Suslova and Olga Karatch discuss how women shaped the revolution, how the international community and U.S. policy can support their efforts, and lessons learned from other regional WPS efforts for Belarus.