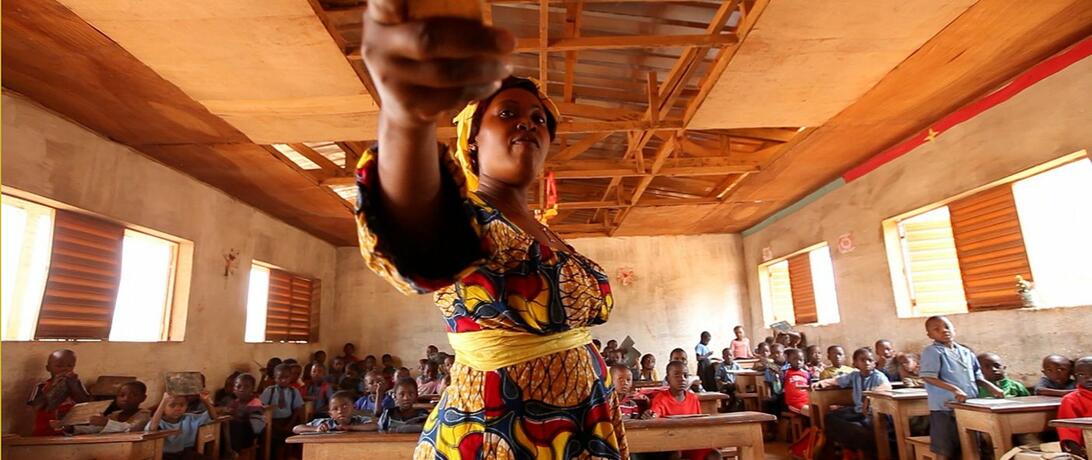 This blog is part of a series of stories that came from Our Secure Future's partner World Pulse, who assisted in collecting stories for the Women, Peace and Security Global Polling Project. To view these results, click here.
The right to PEACE  is a fundamental human right.
I left my hometown Mayo Banyo, a division in the Adamawa region in 2015 for Bamenda in the Northwest region of the country to further my studies at the University of Bamenda. I was very happy and excited and my parents were proud of me because I am the first in my family to attend that level of education. I felt privileged.
I wanted to register in the faculty of arts to read journalism but while filling the registration form I noticed journalism was not in the program so I enquired why and I was told it was a new faculty but that next year journalism will be added so  I called my elder brother to ask what I could do, he told me to come to the capital and register in the University of Yaoundé 1.
I went home and thought of it and after some time I decided to change the field of studies so I opted for Literature with English Language as a minor. I filled the registration form and after a while the I was done with the registration formalities and I was admitted to the University of Bamenda in the faculty of arts.
My first year in the faculty was exciting, I was curious about everything, the environment was welcoming. I passed all my courses and everything went smoothly. I went to the next class with a lot of excitement and expectations.
When school resumed in October 2016 everything was going well not until the third week,I started hearing of the teachers strike action that will begin from the 21 November because they were not satisfied with the educational system. I have never known of strike action before except for the ones I hear on TV so I was waiting curiously for it and its outcome but little did I know that it would turn out like this.
Yes! The 21 came and the lectures carried out their stay at home strike action but some youths went out on the streets demonstrating. In not more than a month people got arrested, some sustained gunshot injuries and some even died.
Oh My God!! During this period no one was going to school, everything was at a standstill. My education was tampered with, the joy of being in the university and obtaining a BA in Literature was shattered.
Schools stopped for a period of 3 months. Even when the government announced school resumption, messages of death threats will be seen in phones from unknown sources. I received so many of those messages, telling me that if I am seen around the school I will be killed, and that I should not stand against the struggle.
I wept and regretted why I didn't listen to my brother when he asked me to come to the capital.
In February 2017, schools reopened but it was a timid resumption. My family refused that I should not go until the crisis stops. So the 2016/2017 academic year I stayed at home with the hope that very soon everything will be OK.
Within that time frame, I saw many young girls becoming mothers at an early age, families got separated and killed, my life was shattered. That year passed yet the fight did not end even though the teachers suspended their strike action.
In September 2017, I decided to go back to school in fear. Yes, I returned because I want to acquire knowledge in order to find a better way to solve the crisis.
The year 2017/2018 academic year was rough. Mondays were declared ghost town days; on Mondays, no one was to be seen outside not to talk of in school. There were weeks that even Tuesday, Wednesday were ghost town days. This made it impossible for us to go to school and lectures equally found it difficult to come thus our going to school was just in papers but onset nothing was going right. Even when I even venture to go to school, there are no taxis on the street to carry me to and fro so most of the time I missed classes and it was disastrous. In fear, many of us go to school with only one prayer that God should protect our going in and going out.
Even in the school milieu I never felt safe. There was a time that while we were in school all of a sudden we heard of gunshots in Sabga hill and we left the school earlier for our homes.
We struggled and wrote the first semester exams in fear but it was not as bad as that of the second semester. We began writing our second-semester exams in early July 2018, everything started in a tense atmosphere and as time went on we started receiving death threats again and some messages asking us to vacate bambili and the school premises as early as possible. There was a Tuesday that we heard of exchange of gunshots between the military and the secessionist around the National Polytechnic before bambui taxis were burnt down while students in the area ran for their lives. There are days that when we finished exams we see no human soul on the street except the military and they looked frightful so we ran away from them and equally because of the harassment we hear they implement on students.
We wrote the exams in great panic and thanks to God I finished my courses earlier because I had earlier succeeded in all my university requirement courses before entering the second year so I was not up to stay in bambili as other students who had to stay and write these courses. The very day I finished I left bambili to town while going my friends asked me to pray for them.
That fateful Wednesday I left, a friend sent me a message at night informing me of gunshots she was hearing, I advised her to lay down on the floor and pray. The following morning she texted and informed me that students were shot last night and a faculty friend of ours of the Geography department was amongst the victims. I wept and felt bad.I wondered what he did before being shot. Later that same week the BBC gave reports that he and his friends were shot by the military for no good reason. Til this date, I weep for him because like me his family hoped he will be their savior but.........Why should a student be killed in a struggle he knew nothing of?!!
Who would have known that things will turn out this way? A peaceful strike action now turned into a political crisis. Many lives cut short !! OH GOD, WHERE ARE YOU?
These and many other injustices are going on ranging from rape, sexual harassment, threats, face to face intimidation to killings of innocent students and civilians. Yes! The strike was started with the lawyers then teachers but they and even the civilians did not know that politics and politicians were cooking up something different.
Humans have no respect for human lives, brothers killing brothers. No fighting camp respects human lives or values our future. They are all fighting for their own benefit and civilians and students paying the price.
I am not in support of the injustices from the two sides. All I want is for peace to come back to Cameroon. We have been talking of dialogue and no one seems to put down arms for peace's sake, neither is any international body doing enough to resolve this problem. Children need to grow up in peace, go to school and prepare for a better future.
The consequences of this crisis are devastating; an increase in theft, an increase in teenage pregnancies, insecurities, migration, refugee camps here and there. OH, My People Please Have A Rethink.
Please, Please I repeat please give peace a chance for I believe PEACE IS STILL POSSIBLE.
I AM JUST AN ADVOCATE OF PEACE.