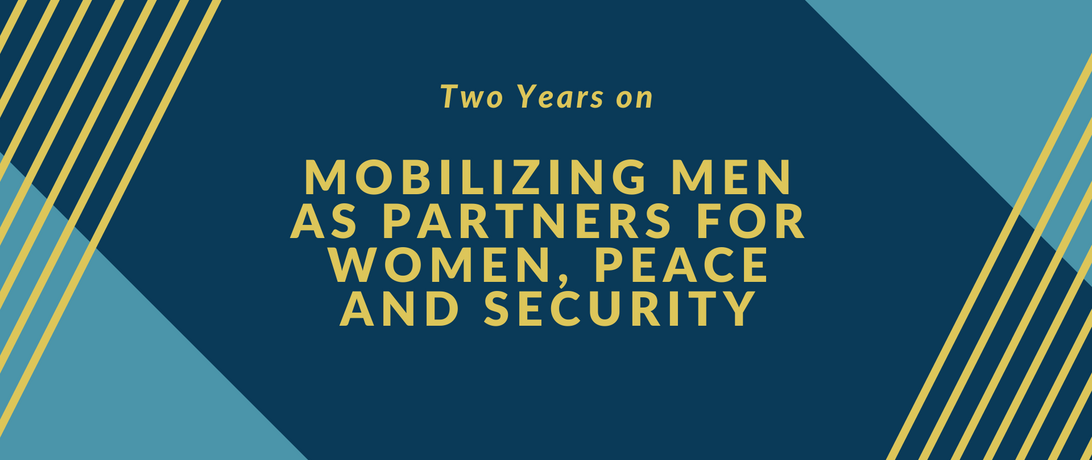 Our project, Mobilizing Men as Partners for WPS is turning two!

The full and meaningful participation of women is critical to creating lasting peace. Mobilizing Men as Partners for Women, Peace, and Security was launched in March, 2019 to help ensure that participation. At its launch, MAWPS adopted a charter and statement of principles that guided it's work.
MAWPS goals were to:
Help open doors of peace processes for women and women's organizations, especially from grassroots groups. 
Strengthen and empower women's organizations in conflict-affected countries. 
Hold governments, international organizations, and other actors accountable for their commitments to support, empower, and protect the rights of women in the context of armed conflicts and population displacement. 
Expand the community of practice around women, peace and security, especially by urging men from the diplomatic, defense, and development arenas to serve as facilitators of women's leadership and engagement.  
Over the past two years, MAWPS was able to achieve much of what it was set up to do. It facilitated linkages between Syrian women activists and high level policymakers at the UN and in the US government and supported the participation of women from Cameroon to participate in a critical conference on the future of their country.
Recognizing the critical importance of women's grassroots organizations engagement and mobilization, MAWPS gave out 18 cash awards to organizations in conflict-affected countries all over the world. While small in scale, the funding was flexible and organizations utilized them in creative and strategic ways to tackle pressing issues such as combatting the spread of Covid-19 or building the capacity of women to run for office. To see more information on how those funds were used, check out the blog. 
Implementing WPS requires holding governments, international organizations and other key stakeholders accountable. MAWPS participated in conferences and spoke at events to elevate this issue. It also provided a set of concrete recommendations to the Administration on what the US government should do to promote WPS in its foreign policy.
Finally, building a community of practice around WPS allows for greater collective advocacy to push this agenda forward. MAWPS expanded its membership from 100 to more than 250 participants. It also developed an interview series to highlight prominent male allies and how they work to ensure women's participation.   
With the continued support of Our Secure Future and Strategy for Humanity, MAWPS will further its goals in the year ahead to ensure women have a place at the table. To see more detailed information, stay tuned for the forthcoming two-year report.