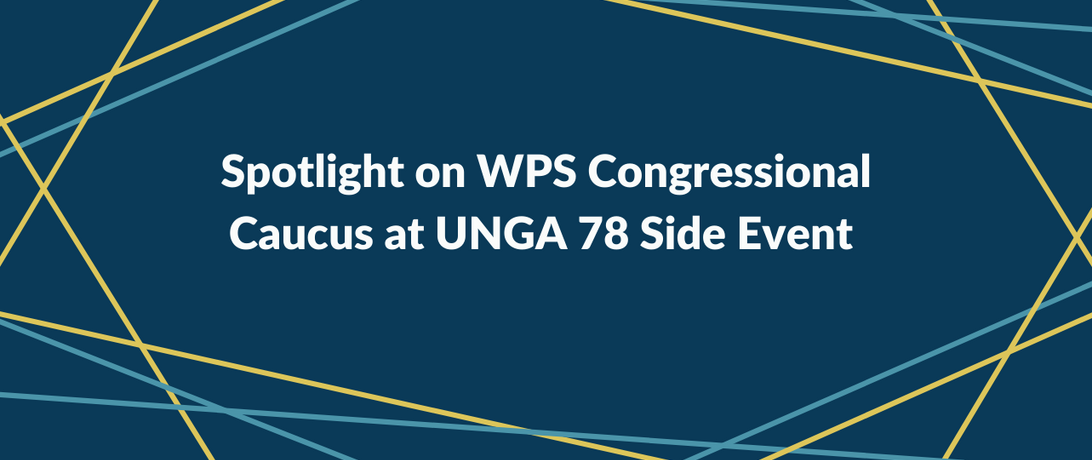 "I am convinced that together we actually have an opportunity to make the world just a little bit safer, a little bit more peaceful for women and girls, but in turn, for all of our people."
– U.S. Secretary of State Antony J. Blinken


On September 21, 2023, during the 78th Session of the United Nations General Assembly (UNGA 78), the U.S. Secretary of State Antony J. Blinken delivered the opening statement at a ministerial-level side event titled "Advancing the Sustainability and Adaptability of the Women, Peace and Security (WPS) Agenda."
The annual side event was organized by the Women, Peace and Security Focal Points Network (WPS-FPN), which was established in 2016 to enhance the implementation of the WPS agenda, as laid out in U.N. Security Council Resolution 1325. As the 2023 Co-Chairs of the WPS-FPN, the United States and Romania, in collaboration with U.N. Women as the Secretariat, invited Network members to share their experiences developing transformative strategies for implementing the WPS agenda.
In his remarks, Secretary Blinken emphasized the need for increased collaboration at the legislative level and highlighted the bipartisan Women, Peace and Security (WPS) Congressional Caucus. Spearheaded by Our Secure Future, the goal of the WPS Congressional Caucus is to ensure that women have active and meaningful roles across all aspects and levels of their communities, as mandated by the Women, Peace and Security Act of 2017. To address the pressing need for greater collaboration, Secretary Blinken outlined several strategies. First, he announced the launch of a new global network of women parliamentarians known as the Global WPS Caucus. The initiative is designed to foster new partnerships and the exchange of best practices, with the ultimate goal of promoting more equitable and inclusive policies. Furthermore, Secretary Blinken expressed U.S. support for WPS Centers of Excellence, which are establishing connections between governments and civil society leaders and driving WPS engagement, policy and practice.
To conclude his remarks, Secretary Blinken spoke about the upcoming release of an updated Strategy and National Action Plan on WPS, which will provide a roadmap for how the U.S. will incorporate the needs and perspectives of women and girls into its diplomacy, defense and development policies in the years ahead.