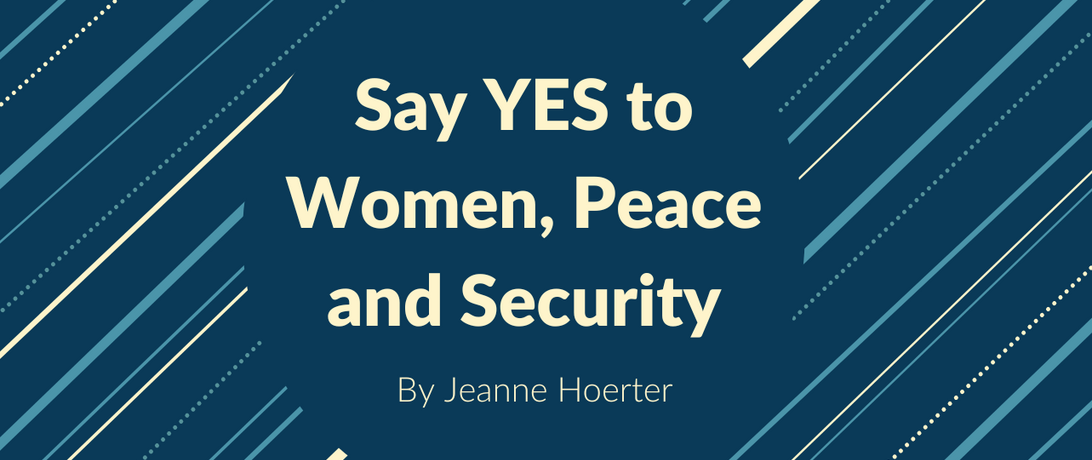 Guest author Jeanne Hoerter discusses the Kennedy-Lugar Youth Exchange and Study (YES) program and how it supports the Women, Peace and Security framework.
The US State Department is advancing the pillars of the Women, Peace and Security (WPS) framework through its Kennedy-Lugar Youth Exchange and Study (YES) program.  Although the YES program is a US public diplomacy program designed to promote mutual understanding between people from countries with significant Muslim populations and Americans, this article identifies how the YES program also complements WPS goals adopted by the United Nations, United States, and other countries.
The WPS framework originates from United Nations Security Council Resolution 1325 on Women, Peace and Security adopted in 2000 which "affirms that peace and security efforts are more sustainable when women are equal partners in the prevention of violent conflict, the delivery of relief and recovery efforts and in the forging of lasting peace."  Starting in 2005, countries created National Action Plans (NAPs) to detail how they will fulfill the UN mandate and today 103 countries have adopted NAPs.  In 2017, the United States passed the Women, Peace and Security Act, and subsequently created the U.S. Strategy on Women, Peace and Security in 2019 which "focuses on improving the effectiveness of our foreign policy and assistance efforts across the board by proactively integrating the needs and perspectives of women, and empowering women to meaningfully participate in decision-making processes at all levels on international peace, security, and prosperity."  WPS is not just about women, it is about increasing the levels of peace and security for everyone at a global level.
The YES program was designed by the US State Department after 9/11 as a tool of public diplomacy and enables international high school students to "live with a host family, attend an American high school, acquire leadership skills, and engage in activities to learn about US society and values; they also help educate Americans about their home country and culture."  The first YES exchange occurred in 2003, and every year there are over 800 YES students in the US, and over 15,000 YES alumni worldwide from over 37 countries.  Upon their return home, YES alumni are offered a robust program of grants, competitions, and training to promote their personal development and enable them to give back to their communities through local projects.  The YES program is only one of 45 US State Department educational and cultural diplomacy exchange programs for non-US citizens.
This article focuses on the experience of YES students from Pakistan to illustrate how these components of the YES program also complement the WPS framework.
Equal Opportunity for Girls and Boys
In the 2022-23 school year, more than 40 Pakistani YES students were hosted in the US, and there are over 1,400 Pakistani YES alumni.  Both girls and boys have equal access to the rigorous YES selection process, and once selected, they participate together in pre-departure orientation programs.  Once in the US, for many Pakistani YES boys and girls, it is often the first time that they attend school together, which is uncommon at home, and they have access to new subjects such as media literacy and health.  Students also have equal leadership opportunities in student government, and all are able to participate in arts and sports. 
These equal opportunities through school are in line with WPS principles because they enable both girls and boys to be better prepared to meaningfully participate together in decision-making, leadership, and conflict resolution.  While living with their American host families, students may also have the chance to witness women and men sharing household and bread-winning duties, and both boy and girl students are often asked to help out with chores.  The opportunity to witness examples of equal partnership in the home is also in line with WPS goals to protect women and girls' human rights, and foster an environment safe from violence.  These equal opportunities do not just empower girls, but boys are also empowered because the value of everybody's contribution is experienced. 
Targeted Programs
The YES program also includes six enrichment programs.  In 2023, visits were arranged to state capitals to learn about government and rule of law, and discussions were held about diversity of beliefs and civil rights.  Optional national workshops focused on civic education, teaching English, and diversity.  Amna, a YES student hosted in Texas in 2021-22, had the opportunity to meet political staffers and activists at a workshop and she said, "All these amazing and resilient people helped reshape the idea of leadership for me."   
YES students are also required to volunteer for 25 hours in their host community.  In communication with the author, a YES program specialist said, "The more ways they volunteer, the more ways they can see themselves participating in different roles back at home."  Maria, hosted in Massachusetts in 2022-23, volunteered over 100 hours by cooking for the homeless and sorting clothing donations.  These enrichment programs and volunteer experiences improve the ability of students to fully participate in decision-making, leadership, conflict resolution, delivery of relief and recovery, and peace building which are in direct support of WPS pillars.
Local Community Development
Another major goal of the YES program is for alumni to be empowered to give back to their local communities.  Upon their return home, ninety-six percent of all YES alumni report being "actively engaged in community service," and both male and female Pakistani YES alumni take full advantage of YES grants for local projects.  Alumni projects often align with WPS principles and include financial skills, mental health, entrepreneurship, healthy relationships, and media literacy. 
Another YES student named Maria, who lived in Nevada 20 years ago, overcame many barriers with the assistance of YES grants and shared, "My YES experience transformed me into a resilient person. I built my own non-profit called, Hunar Ghar, which is a welfare organization for women empowerment."  Yumna, who lived in Maryland in 2015-16, used an alumni grant and "organized a series of workshops based on the themes of career counseling, freelancing, and media literacy."  Husnain, a boy who studied in Connecticut in 2021-22, participated in a flood emergency response campaign with other YES alumni. These very effective locally driven programs demonstrate the ability of YES alumni to advance the principles of WPS because male and female returnees are directly involved in preventing conflict, relief and recovery efforts, and promoting peace, security and prosperity.
YES supports WPS and International Peace & Security
The evidence is clear that the YES program is more than just a public diplomacy tool.  The YES program also fosters the mindset and skills among international students that advance the pillars of the Women, Peace and Security framework.  It is known that the WPS principles of participation of women in decision making, protection of women from violence, prevention of violence through empowerment, and holistic relief and recovery efforts after crises are all linked to higher levels of overall security for men and women. The YES program supports these WPS principles and builds a strong foundation for international peace and security.
Jeanne Platt Hoerter specializes in global health security and advocates for public diplomacy.  She was a host-parent to a Pakistani YES student for the 2022-23 school year and is currently hosting a YES student from Indonesia.  She holds a Master of Public Health from the University of the Witwatersrand, and a Graduate Certificate in International Security from Harvard Extension School. The opinions and views expressed in this article are those of the author and do not represent Our Secure Future or the YES program.