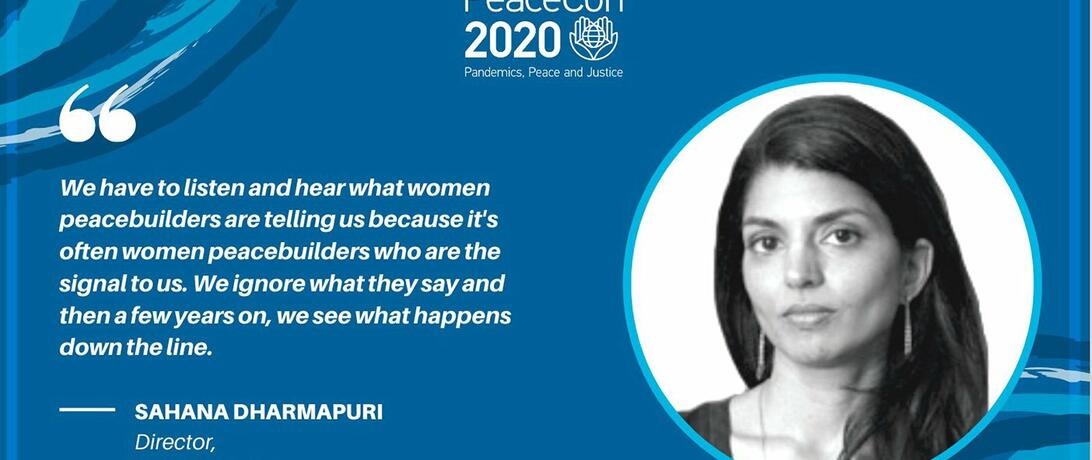 OSF Director Sahana Dharmapuri featured as panelist for PeaceCon opening plenary session on Tuesday December 9.

On December 8, Our Secure Future Director Sahana Dharmapuri was a panelist for the day's opening plenary session at this year's PeaceCon event. PeaceCon 2020, titled Pandemics, Peace and Justice focused on rising global violence, and a national and worldwide reckoning over systemic injustice and racism. Alliance for Peacebuilding brought together experts and practitioners to consider the interplay of justice and peacebuilding, and strategies to elevate and integrate peacebuilding in our collective effort to shape a more just, secure and peaceful future in the wake of the COVID-19 pandemic.  
The panel session "We Told You So…Why Listening to the Local Experience of Women Peacebuilders Matters for Global Peace and Security" was moderated by ICAN Founder CEO, Sanam Naraghi-Anderlini MBE.  In addition to OSF Director Sahana Dharmapuri, the discussion featured Hamsatu Allamin, Founder and Executive Director of Allamin Foundation for Peace Development, Guissou Jahangiri, Executive Director of FIDH and OPEN ASIA, Ambassador Bonnie Jenkins, Director of WCAPS, and John Packer, Director of the Human Rights Research and Education Centre at the University of Ottawa to analyze current dynamics of geopolitical shifts, violent extremism, COVID-19, and the international response. 
Local peacebuilders shared their experiences and understanding of security to inform what the peacebuilding field and other international actors should consider in foreign and security policy, and peacemaking spaces. The changes in the lives of women and communities at the local level provides a critical perspective of civil society to inform our understanding of complex crises and how we need to respond differently.
The WPS community now has two decades of experience to draw on to analyze how we define the concepts of peace, security, and justice, what the values of human rights, dialogue and inclusion from this agenda mean, and why that matters for policymaking today. Global geopolitical shifts necessitate that we change our approaches to peacebuilding, but in order to do so, we need to listen to leaders at the local level.