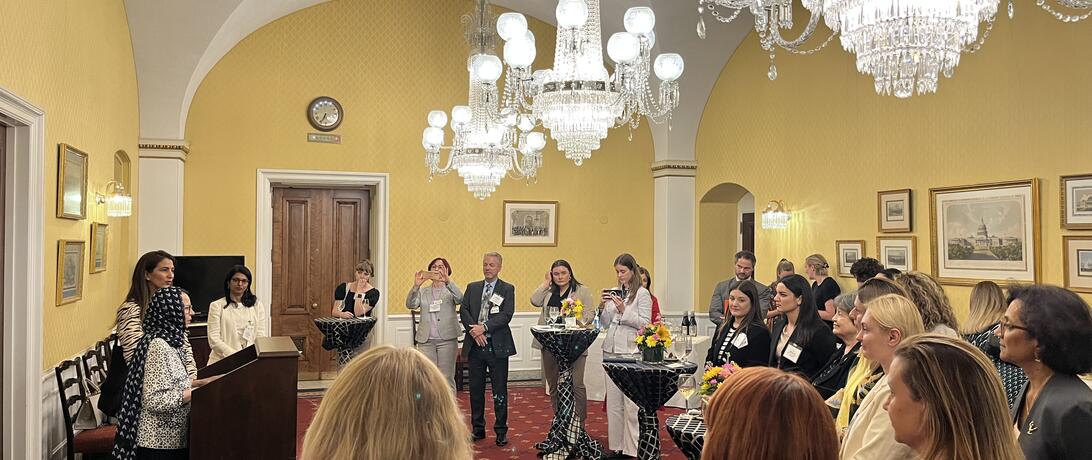 OSF hosts reception at the US Capitol to kick off the UN Women, Peace & Security Focal Points Network 5th Capital-Level Meeting.
On June 5th, 2023, Our Secure Future hosted a dinner with Women, Peace and Security (WPS) Congressional Caucus Co-Chairs, members of Congress, and Focal Points Network (FPN) members in the House Members' Dining Room in the US Capitol to kick off the 5th Capital-Level Meeting of the WPS Focal Points Network . 
The Women, Peace and Security Focal Points Network was launched in 2016 to improve and strengthen the implementation of the WPS agenda at the origin of the decision-making process. The United States and Romania are Co-chairs of this Network in 2023.
Our Secure Future Director Sahana Dharmapuri welcomed all attendees and highlighted the importance of the WPS Congressional Caucus and its work. Welcoming remarks were then given by WPS Congressional Caucus Co-Chair, Representative Lois Frankel (D-FL), and follow up remarks were made by Representative Kathy Manning (D-NC). 
Additional opening remarks were given by:
Dr. Geeta Rao Gupta

, US Ambassador-at-Large for Global Women's Issues

Lt. Colonel

Manuela Bercea,

Romanian Focal Point

Ancu Dragu,

Senator, Chairperson of the Commission for Human Rights, Equal Opportunities, Religions and Minorities in the Romanian Senate

 

Sarah Hendriks

, Deputy Executive Director for Policy, Programme, Civil Society, and Intergovernmental Support, UN Women
Parliamentary representatives from across the globe then took to the podium to address their countries' experiences with promoting the WPS agenda. Speakers included Sinead McLaughlin of Northern Ireland, Oleksandra (Sasha) Ustinova of Ukraine, and Saadia Djaffer from Algeria. Speakers discussed the importance of female inclusion in resolutions, the disproportionate effect of war on women, and new roles women take on in war.  
The event concluded with a dinner reception, allowing the speakers and attendees to discuss their roles in promoting the WPS agenda.