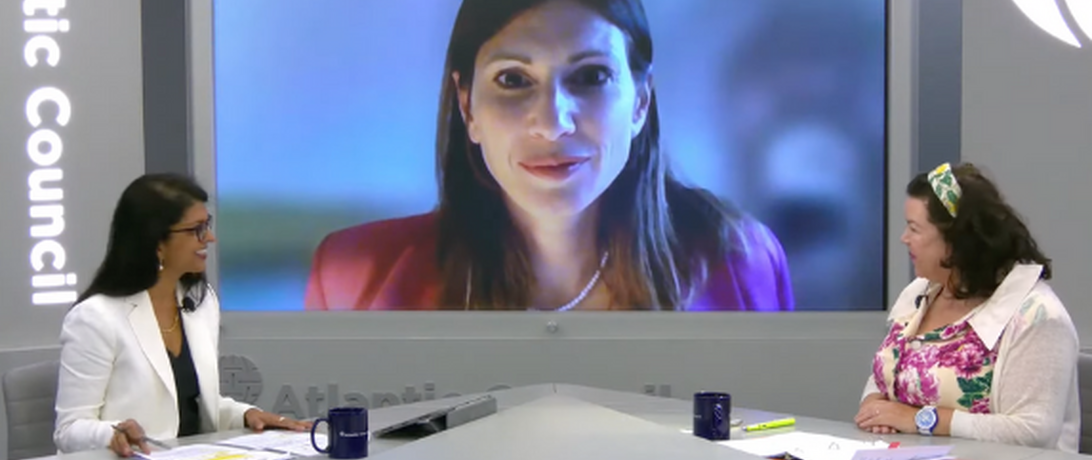 On July 15, 2022, Our Secure Future and the Atlantic Council's Scowcroft Center for Security and Strategy hosted a hybrid event titled "Gender and Strategic Competition" streamed from the Atlantic Council Studio to discuss the essential interconnection of the Women, Peace and Security agenda to rising global strategic and great power competition.
The event, moderated by OSF Director Sahana Dharmapuri, featured Dame Karen Elizabeth Pierce DCMG, the British Ambassador to the United States, and Irene Fellin, the NATO Secretary General's Special Representative for Women, Peace and Security. Barry Pavel, Senior Vice President and Director of the Scowcroft Center, provided introductory remarks.
During the discussion, Ms. Dharmapuri posed a series of questions to the speakers, such as why WPS matters when discussing strategic competition, how global leaders can better incorporate WPS considerations into strategic planning to address modern challenges, and how governments can better open doors to the perspectives of civil society. Ms. Fellin discussed the ways in which NATO's new strategic vision has put gender considerations high on its agenda and how the alliance is working to incorporate WPS considerations across all its operational areas. Ambassador Pierce commented on how a multilateral, values-based, and legal-minded approach with short, medium, and long term considerations can best be leveraged by U.K. allies and partners to shape their strategies for competition against Russia and China. Ambassador Pierce and Ms. Fellin shared key insights from their own governmental, civil society, and multilateral experiences to evaluate how the recent crisis in Ukraine and last year's withdrawal of NATO forces from Afghanistan present key examples of why WPS considerations must be incorporated strategically. Watch the full event below.