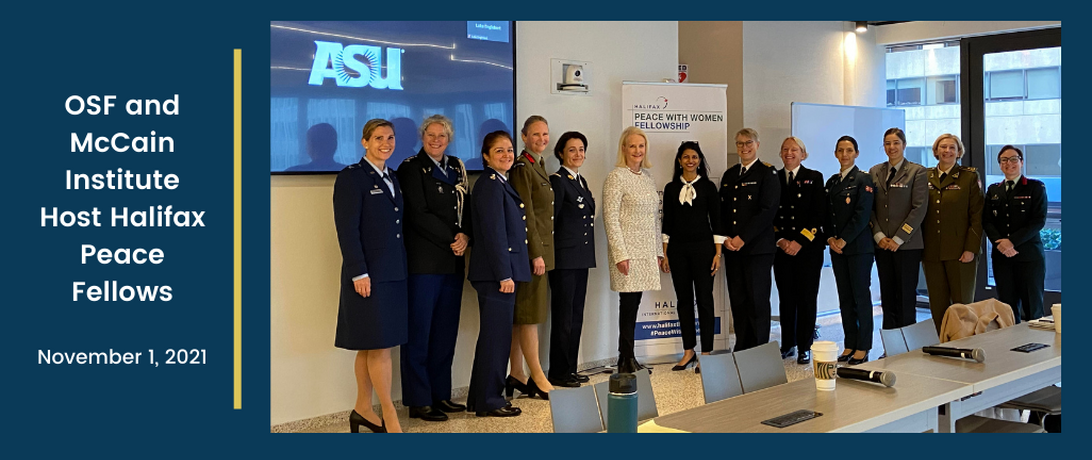 OSF and the McCain Institute hosted the Halifax Peace Fellows for a roundtable discussion on Women, Peace and Security.

On November 1, 2021, OSF and the McCain Institute hosted a closed door roundtable discussion with the Halifax International Security Forum's Peace with Women Fellowship. The event brought together 12 women peace fellows and key allies in the women, peace, and security space.
Mrs. McCain opened the session by welcoming and thanking the fellows for their work and dedication. She also discussed her work and answered questions about how to advance WPS. OSF Director, Sahana Dharmapuri, then welcomed the additional speakers including Ambassador Donald Steinberg, Expert, USAID, and former Ambassador to Angola, Ambassador Steven McGann, Founder oof the Stevenson Group and Former Ambassador to several countries in the Pacific Islands, and Moira Whelan, Director for Democracy and Technology at NDI. The speakers talked about their work bringing in male allies, in particular, for WPSS in their respective roles as well as how online violence toward women deeply threatens women's meaningful participation. Fellows asked several questions ranging from panelists own personal experiences as well as how they can integrate WPS in their own countries.