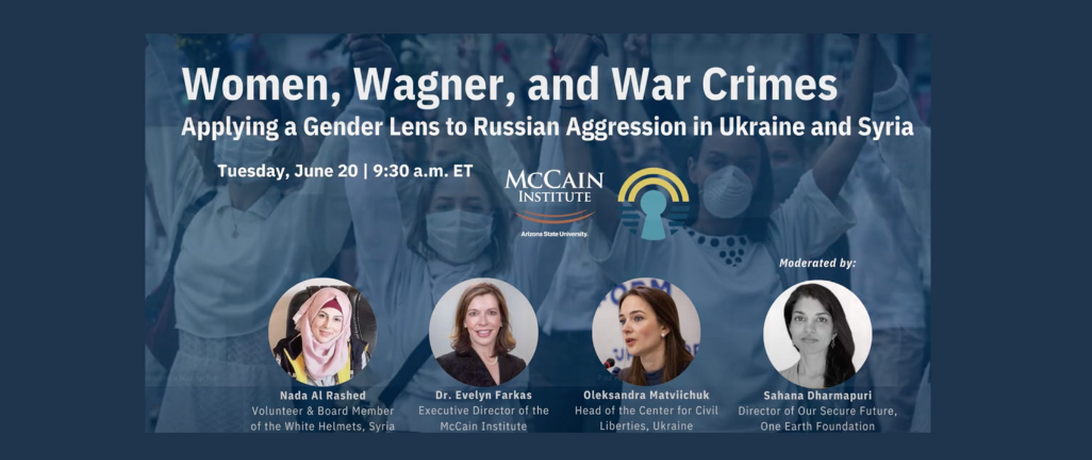 On June 20, 2023 Our Secure Future and the McCain Institute hosted an online event, "Women, Wagner Group, and War Crimes– Applying a Gender Lens to Russian Aggression in Ukraine and Syria," to discuss how a Women, Peace and Security lens is essential to the conflict in Ukraine. Over 100 participants attended the webinar.

The panel was moderated by OSF Director Sahana Dharmapuri and featured the following speakers:
Dr. Evelyn Farkas

, Executive Director, McCain Institute

Nada Al Rashed

, Volunteer and Board Member, White Helmets

Oleksandra Matviichuk

, Head of the Center for Civil Liberties
During the opening remarks, Ms. Dharmapuri provided an overview of the WPS agenda and discussed the importance of applying a gender lens to Russian conflicts that continue in Ukraine and Syria. "Women, Peace and Security is really about seeing and understanding complex situations and conflicts in a more nuanced and comprehensive way, and that approach is achieved through using a gender lens," Ms. Dharmapuri stated.
Throughout the discussion, Ms. Dharmapuri posed a series of questions on looking at Russian tactics in Ukraine and Syria, how women's groups are documenting the war crimes perpetrated by Russia, the struggle between authoritarianism and democracy, and the role of the Wagner Group in Russian military aggression.
Dr. Evelyn Farkas highlighted the importance of understanding the line that runs through Chechnya, Georgia, Moldova, Syria, and the latest stage of war in Ukraine. The Kremlin has continued employing the same military playbook, consisting of military air forces, the Wagner mercenary forces, civilian killings, and the destruction of infrastructure to achieve its goals in these territories. Dr. Farkas also noted the lack of female representation in Russia's government where women often serve as mouth pieces rather than policy makers. She emphasized that Russia has no civil society in which citizens could partake and band together. This environment results in people trying to make changes individually but not collectively. In the war in Ukraine, Russia's war tactics have changed as the Kremlin is no longer hiding its intent in trying to bring Ukraine to its knees. To ensure Russia's defeat and eventual accountability before the international community, Dr. Farkas stressed the importance of providing more resources to Ukraine more quickly, reminding the international community of how Syrians suffered, and condemning Russia's actions vocally since previous U.S. failures to speak out resulted in President Putin feeling as though he could continue his aggression from Chechnya onward. 
Nada Al Rashed discussed the impact Russia's and the Syrian regime's aggression left on her and other women in Syria. By joining the civil defense, Nada became part of the response and an advocate for women. She reflected on the role women currently hold in Syria: they document war crimes; collect evidence; provide psychosocial, legal, security, and health services to those affected by war crimes; and raise awareness by collaborating with international organizations, which maximize the voices of female activists on the ground. 
Oleksandra Matviichuk provided her perspective on documenting war crimes committed by Russia since 2014, which has included interviewing hundreds of civilians who survived Russian captivity. When the full-scale invasion by Russia started, the Center for Civil Liberties and dozens of regional organizations united, and have documented over 41,000 war crimes. Ms. Matviichuk discussed the immediate need to establish an international tribunal to persecute Russian leadership and for international legal assistance to help provide justice to victims of Russia's crimes. Ms. Matviichuk further explained that the Russian war is a war between two systems: democracy and authoritarianism. 
Ms. Matviichuk concluded by stating that women should not just be presented as victims of Russian aggression, stating, "women document war crimes, women make important political decisions, women coordinate huge civil initiatives, women are on the forefront of this battle. Bravery has no gender." 
Ms. Dharmapuri wrapped up the conversation by asking the panelists to provide a call-to-action for the international community. 
Nada Al Rashed: War criminals need to be held accountable in Syria and humanitarian assistance should not be used as a tool for negotiation at the expense of civilians. People displaced by the conflict should be returned to their homes with guaranteed human rights.

Oleksandra Matviichuk: It's time to change the narrative within the international community to "let's help Ukraine to win fast."

Dr. Evelyn Farkas: We need to provide more to Ukraine and defeat Russia as fast as possible because it is our moral obligation. The international community needs to achieve accountability for Ukraine and Syria.
Watch the full event here: https://www.mccaininstitute.org/resources/events/women-wagner-group-and-war-crimes-applying-a-gender-lens-to-russian-aggression-in-ukraine-and-syria/