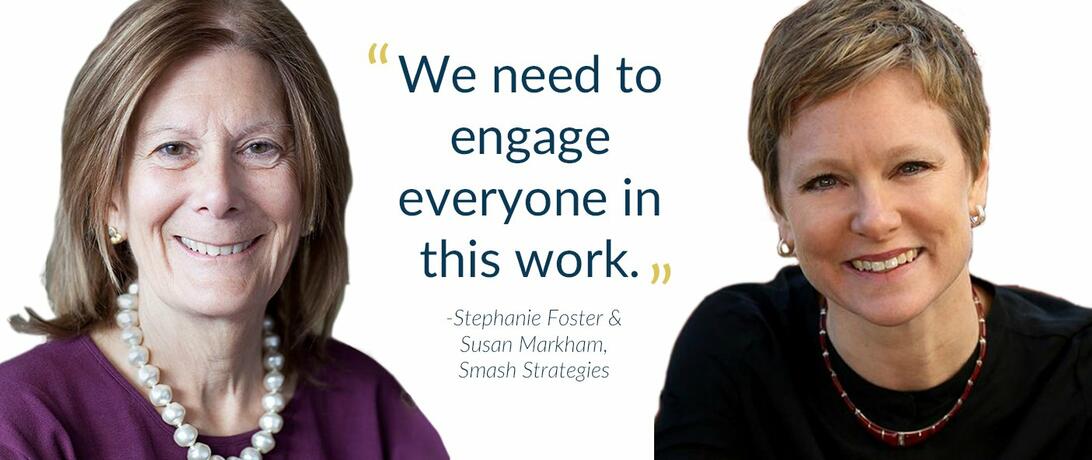 In this installation of Notes From the Field, we highlight the work of Stephenie Foster and Susan Markham at Smash Strategies.

Our Notes From The Field series has been designed to highlight the opinions and advice of Women, Peace and Security experts around the world. In this series, we hope to bring attention not only to the tireless work they've been doing, but also to their plans for the future. 
At Smash Strategies, Stephenie Foster and Susan Markham help their clients envision how empowering women and making progress towards gender equality makes them more effective. They do this by seeing the broader landscape, identifying opportunities, and designing strategies that reflect best practices and measurable results. Susan and Stephenie have decades of experience working both internationally and domestically on politics, policy, and advocacy, and they understand the public and private sectors and how to use those platforms to propel sustainable change. 
Stephenie Foster is an inclusive leader who brings together vision and pragmatism to get results and meet client needs. Based on her unique experiences, she understands the political and policy landscapes relevant to empowering women and girls and increasing their opportunities for leadership. She has deep and broad expertise in women's economic and political empowerment, and decades of experience in government, the nonprofit sector, and law.
Susan Markham is a passionate advocate for gender equality and female empowerment who speaks often about the essential role of women in politics and development. With experience in over 50 countries, she is a strategic leader who is appreciated for her energy, straight talk, and insight connecting academics, activists, implementers, and ideas across sectors.
What are you currently working on?
We're just finishing up a paper: Operationalizing a Feminist Foreign Policy Within the US Government. There are a few individuals and organizations working on what a feminist foreign policy (FFP) might look like in the US; we see our experience in the State Department and USAID as adding to the discussion by laying out how FFP could be implemented within US foreign policy and national security institutions. 

What is the thing you most want to change in the world?
Gender needs to be considered across organizations and institutions. For too long, development professionals have worked with and relied on women alone to change the unequal power dynamics that exist. We need to engage everyone in this work. It is time for the structures that perpetuate the inequality (and the men who run them) to acknowledge how they would benefit from changing the current system and then work with women to change it so that we can all benefit. A recent Washington Post article outlined how men in countries with stronger gender equality tend to fare better on health outcomes and live longer.
 
How do you use Women, Peace and Security and UNSCR 1325 in your work?
UNSCR 1325 was revolutionary when it passed the UN Security Council in 2000; it's now almost 20 years later. The women, peace and security agenda has been implemented very unevenly around the world, including here in the US, but there has been progress. The passage of the WPS Act in 2017 in the US made us the first country in the world to codify our national action plan on women, peace and security. 1325 is a North Star; it's a reminder of where we're going and the importance of ongoing work.
 
What keeps you up at night?
The combination of the current administration's pull back from the global arena and the number of open diplomatic positions in the US State Department. Recently, the US government's capacity to prevent conflict and build institutions has eroded sharply, particularly in countries where local knowledge is most needed. This makes it more difficult for us to understand and foresee problems, much less shape solutions. We are working blind in critical countries and that isn't good for our national security.
 
What has surprised you the most about this work?
People very often misunderstand or sideline the women, peace and security agenda. Many believe that "women, peace and security" means that women are naturally more peaceful than men, and not that women's participation in conflict prevention and resolution translates to more stable and long-lasting peace agreements. This is important because peace is not just about men and guns. "Peace" and "security" involve every aspect of life, so they cannot exist when women's knowledge, interests, and lived experiences are not fully reflected in public life and peace processes.
 
What should we pay attention to now?
As the 2020 campaign continues, people should pay attention to how candidates address gender equality. Gender issues and the role of women in our society are on the front line of current policy discussions due to the rise of the #MeToo movement, advocacy around pay equity, and attacks on women's reproductive rights. So, we should look at how those running for office, both Democrat and Republican, men and women, are running their campaigns and how they address gender in the campaign's policy and programs. With regard to internal campaign management, we should ask if women are represented and paid equally at every level of the campaign and how issues such as sexual harassment, computer usage, and leave are addressed. On the policy side, we should ask how campaigns target and speak to women voters and how they integrate gender issues across domestic and foreign policy plans.