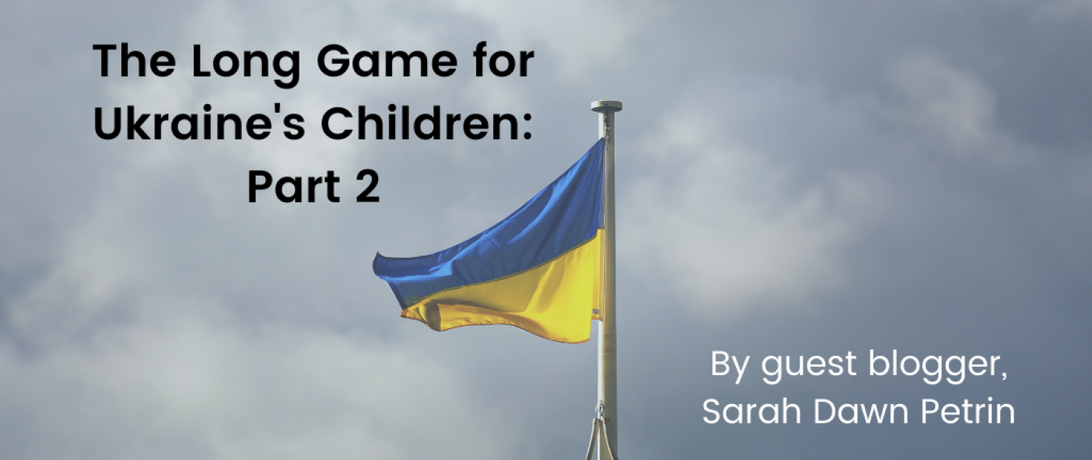 As a guest blog, the views expressed in this publication do not necessarily reflect the views of Our Secure Future or One Earth Future.
By Sarah Dawn Petrin, Nonresident Senior Fellow with the Atlantic Council
Ukraine is paying a high price for the impact of war on its children. Dozens of children have already been killed and wounded in the latest round of fighting. In bunkers across Ukraine, children and young adults are being deprived of basic needs including food, water, heat, and adequate shelter. Children are at-risk of losing their lives. Yet, they are also at-risk of losing their identity due to socio-cultural influences that give Russia a foothold. Even if the Government of Ukraine were to take back control of the Eastern Territories, Russian youth groups could have an enduring influence over the population.
Western militaries should pay heed to these trends. If NATO forces were deployed to defend Ukraine, are soldiers prepared to encounter children on the battlefield?
NATO nations need to consider the possibility that their forces, if deployed, might have to separate children from adult combatants. The Alliance should also consider children when determining what type of security sector assistance is needed in Ukraine. It's hard to believe that governments can find hundreds of millions of dollars for the "hardware" to counter Russian aggression, such as providing Ukraine with Javelin anti-tank missiles, but where is the plan to protect the civilian population from attack? Allied forces need operational protocols that recognize the risk of encountering child soldiers and the rules of engagement to separate them from adult command structures.
The U.S. military has mobile shelters and other fortified structures that would allow Ukrainian forces to operate with mobility on the front lines, even in harsh conditions. Providing such equipment on the condition that military forces stay clear of schools, would send a strong message. Nations have the capacity to offer military assistance to Ukraine that would protect the force and protect civilians from harm. Basic solutions for innocent civilians, such as bomb shelters, are in limited supply.
NATO nations should remind all parties to the conflict that attacks on civilians and civil infrastructure, including schools, are unacceptable.
Leaders talk about Ukraine as if the battle will be decided by western countermeasures against Russia. Yet, it's unclear whether putting economic pressure on Russia will yield results. Can sanctions in Russia lead to a ceasefire in Ukraine?
Even short-term results such as building a strong civil defense in Ukraine, may not lead to long term gains. What can replace a family separated by war or a child's education? What will happen to the small arms and heavy artillery in Ukraine when the war ends?
The long game for Ukraine will be decided by future generations. The war will be borne out on Ukrainian children, many of whom are in a precarious situation, facing an impossible choice; Will they face east, or will they face west?
About the Author:
Sarah Dawn Petrin is a nonresident senior fellow with the Atlantic Council's Transatlantic Security Initiative in the Scowcroft Center for Strategy and Security and a former advisor to the U.S. military and NATO on developing strategy, policy, and doctrine for the Protection of Civilians and Women, Peace and Security. She has 20 years of operational experience in conflict zones in Africa, Asia, Eastern Europe, and the Middle East. She is the author of a Military Leadership Guide on Human Security and author of the book Bring Rain: Helping Humanity in Crisis.
Note:
This article includes unpublished material from the Military Leadership Reference Guide on Human Security, Case Study on Children and Armed Conflict written for the U.S. Army Peacekeeping and Stability Operations Institute (PKSOI) in 2021.