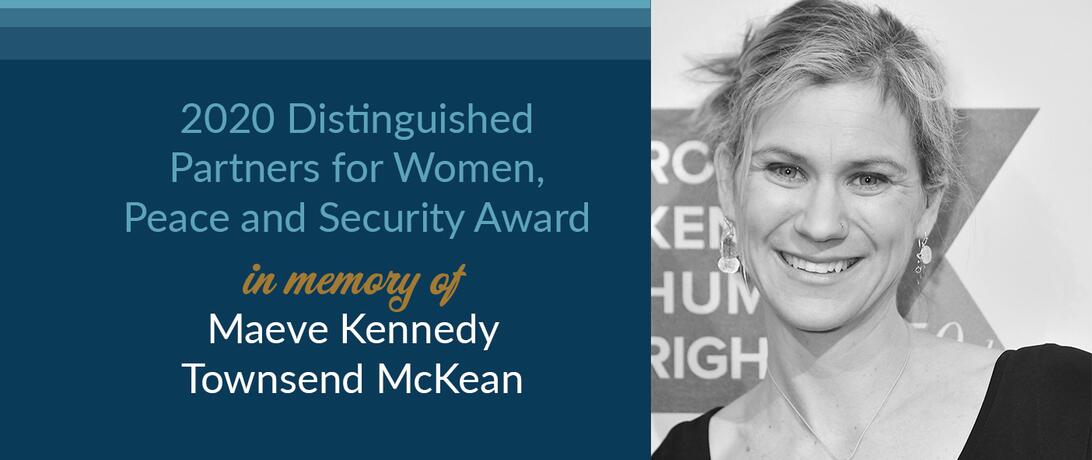 Grassroots women-led groups given the 2020 Distinguished Partners for Women, Peace and Security Award in honor of Maeve Kennedy Townsend McKean.

The organizations, Strategy for Humanity, Our Secure Future, and Mobilizing Men as Partners for Women, Peace and Security are awarding their 2020 Distinguished Partners for Women, Peace and Security Award to grassroots women-led groups from Afghanistan, Guatemala, Jordan, Lebanon, Nepal and Nigeria countries in honor of Maeve Kennedy Townsend McKean, who passed away on April 3, 2020, along with her son, Gideon.
"These awards and modest financial support are intended to help women leaders who are working for great peace and security in order to make their communities safer from war, disease, and abuse," said Alexandra Arriaga, founder and partner of Strategy for Humanity. "In particular, the awards will provide immediate support for groups to address the local impact of the coronavirus."
Sahana Dharmapuri, director of Our Secure Future, added: "We are recognizing courageous organizations working at the nexus of community health, women's rights, and conflict resolution, just as Ms. McKean did in her dedicated service with Peace Corps, the State Department's global AIDS program, the Department of Health and Human Services, and Georgetown University's Global Health Initiative."
"Those of us who were honored to watch Maeve in action witnessed the rare combination of professional excellence, humanitarian spirit, and vibrant personality that made you want to do all you could to support her latest mission," said Donald Steinberg, executive director of MMPWPS.  He added that the six groups will join others from Cameroon, Côte d'Ivoire, Iraq, Mexico, South Sudan and Sri Lanka who were previously honored.
The Distinguished Partners for Women, Peace and Security Award was established in 2019 to honor women's organizations on the frontlines of addressing the root causes of conflict, including poverty, disease, gender-based violence, illiteracy, injustice and marginalization.   
Award winners are promoting women's leadership and participation in peace processes and political structures; addressing the socio-economic needs of marginalized populations, including indigenous women; conducting research and advocacy on gender-responsive humanitarian, reconstruction and development programs; providing training and capacity-building on inclusive citizenship and economic rights; building resiliency for disaster-prone regions; and expanding access to reproductive, maternal, newborn, and child health and nutrition. 
Most recently, in response to the COVID-19 pandemic, awardees have pivoted to address its effects within their communities creating awareness-raising campaigns, translating them into different languages to help inform the public about wearing masks, washing hands, and the importance of social distancing as well as distributing personal protective equipment (PPE).  Stay tuned for a short miniseries featuring their work in the upcoming weeks!