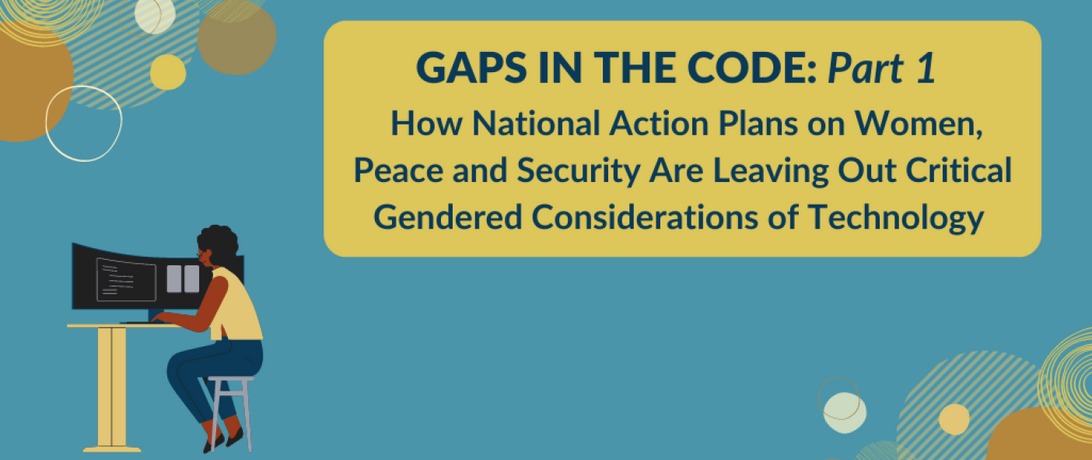 This month is Our Secure Future's Women, Peace and Security (WPS) and Tech Month, where we are highlighting the key intersections and challenges between the WPS agenda and the tech industry.
Technology is not gender-blind. While in an ideal world, technology and the opportunities it creates for human interconnection, security, business, and innovation, are open to all, in reality, gendered and other inequalities from the physical world are perpetuating themselves in the digital ecosystem. As technology continues to evolve, with important consequences for global security, women must not be left out of the picture. Therefore, each of the four parts of the WPS Puzzle: participation, protection, prevention, and perspectives must be considered.
A key part of the WPS agenda since United Nations Security Council Resolution (UNSCR) 1325 has been countries' development of National Action Plans (NAPs), which serve as strategy documents to dedicate national resources and guide progress towards Resolution 1325 commitments. To date, 99 countries have developed NAPs, all of which are publicly available absent the United Arab Emirates. Several other countries also have planned NAPs forthcoming. Because NAPs play a key role in marshaling a country's resources towards achieving WPS goals, they provide interesting insight into what aspects of WPS different countries are focusing on. Analyzing NAPS also allows us to identify gaps in countries' WPS strategies.
As highlighted previously, technology has been and is increasingly becoming one of the most important lenses of our geostrategic, security, and development landscape. Technology can connect more women and girls to decision making than ever before, open bridges for peacebuilding efforts, enable new economic opportunities, assist the fight against the security threats of climate change, and much more. However, technology is also becoming a new frontier of the threat landscape, as cyber-attacks, ransomware, disinformation, misinformation, and online violence threaten our societies. These security challenges and peacebuilding opportunities carry gendered dimensions which have permeated the digital space in both new and reciprocal ways as compared to the physical world. It is therefore vital that countries consider the digital ecosystem and technology in the context of WPS. OSF therefore embarked to discover if this dimension was being accounted for in countries' NAPs.
To conduct this research, OSF surveyed the 98 publicly available NAPs for the following keywords: technology, digital, cyber, internet, online, electronic, computer, artificial intelligence (AI). We conducted both a quantitative count of how many times these keywords appear in each countries' NAPs (as some countries have published up to four iterations of NAPs to date) and conducted a qualitative review of how these keywords are being included in the countries' strategic planning. This analysis also looked at the ways in which the keywords media and data may be used in a reference to online media and data but found most references to media or data referenced traditional media and the need for sex-disaggregated data on different metrics, as opposed to online media or data. To provide some context to the following findings, the below Table 1 shows how 99 countries had first iterations of NAPs, 38 countries had second iterations of NAPs, 17 countries had third iterations of NAPs, and 5 countries in Europe alone had fourth iterations of NAPs. Europe and Africa regionally have the greatest number of published NAPs, whereas South America hosts the least.
Table 1: NAP Totals
| | | | | |
| --- | --- | --- | --- | --- |
| Region | First NAP Iteration Number of Countries | Second NAP Iteration Number of Countries | Third NAP Iteration Number of Countries | Fourth NAP Iteration Number of Countries |
| Total | 99 | 38 | 17 | 5 |
| Europe | 39 | 22 | 14 | 5 |
| North America | 5 | 2 | 1 | NA |
| South America | 4 | 1 | NA | NA |
| Middle East | 6 | NA | NA | NA |
| Africa | 30 | 8 | 2 | NA |
| Asia | 10 | 4 | NA | NA |
| Oceania | 5 | 1 | NA | NA |
As is evident from the below Table 2, only 18.8% of all countries who developed a first NAP included technology as a consideration. Africa had the highest percentage and greatest number of countries who referenced technology in their first iteration of NAPs, with 10 out of 30 countries, 33.33%. Among countries that published second iterations of NAPS, 26.32% went on to include technology in their strategic considerations, with Europe having the largest number of countries. For countries who published third iterations of NAPS, the percentage who mentioned technology reduced to 17.65%, all of whom were European countries. Two out of the five European countries who published fourth NAPS also mentioned technology.
Table 2: Technology
Region

%  of Countries  Who Mention Technology in 1st NAP Iteration

# of Countries who Mention Technology in 1st NAP Iteration

 

%, 2nd NAP Iteration

#, 2nd  NAP Iteration

%, 3rd NAP Iteration

#, 3rd NAP Iteration

%, 4th NAP Iteration

#, 4th NAP Iteration

Total

18.18%

18

26.32%

10

17.65%

3

40.00%

2

Europe

5.13%

2

27.27%

6

21.43%

3

40.00%

2

North America

20.00%

1

50.00%

1

0.00%

0

NA

NA

South America

25.00%

1

0.00%

0

NA

NA

NA

NA

Middle East

16.67%

1

NA

NA

NA

NA

NA

NA

Africa

33.33%

10

12.50%

1

0.00%

0

NA

NA

Asia

20.00%

2

25.00%

1

NA

 

NA

NA

Oceania

20.00%

1

100.00%

1

NA

 

NA

NA
The statistics on the other technology-related keywords we searched for presented an equally lackluster picture. The tables containing these figures can be found at the bottom for reference.  Solely two African states, Gabon and Tunisia, and two European states, Estonia and Latvia, mentioned the word digital in first NAPs. The United States was the sole country to mention digital in its second NAP, Italy was the sole country to mention digital in its third NAP, and three European countries included it in their fourth NAP. Trends proved similar for the word cyber. Only Africa and Asia had a percentage rate of 10% or higher for first NAP mentions. Africa had 12.5% of countries mention cyber in second NAPs, and solely Denmark and the Netherlands mentioned cyber in their fourth NAPs. The word internet proved even less promising, with only three African countries mentioning it in the first iteration of NAPs (Guinea-Bissau, South Africa, and Tunisia), and solely the United States mentioning it in its second NAP. 
The word online was a standout for its inclusion, especially in newer NAP iterations. While solely Australia included online in its first NAP iteration, 22.73% of European countries, 12.5% of African countries, Australia, and the United States included it in their second iteration of NAPs. 50% of African countries and 28.57% of European countries who had a third iteration of NAPs also included the word online, and the Netherlands and Norway included it in their fourth NAP iterations as well. For the word electronic, 10% of Asian countries, 13.33% of African countries, and El Salvador included mentions in their first NAPs.  12.5% of African countries with a second NAP iteration included electronic as well, and Norway included it in its fourth NAP iteration. For the word computer, 10% of Asian countries and El Salvador included the word in their first NAPS. No countries mentioned AI in any NAP iterations.
As we can see across the board, technology-relevant considerations are lacking across the majority of NAPS, and therefore, across the majority of the world's WPS response. Despite this, several countries around the world are rising to address both the new opportunities and threats that the digital ecosystem has enabled in each of the four arenas of WPS. These world leaders can offer lessons to their peers on how to recognize, incorporate, and mainstream essential technological considerations into WPS planning. Our next blog will address the WPS pillars and tech.