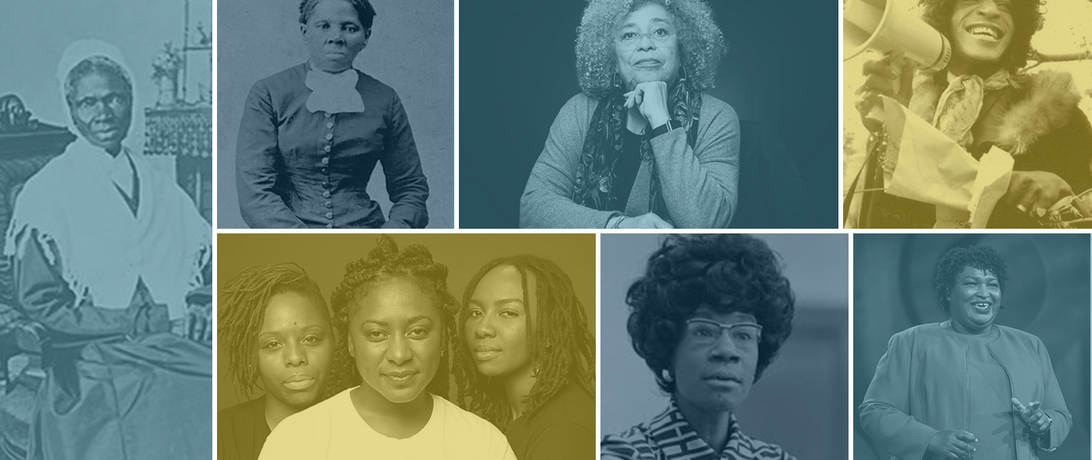 Our Secure Future celebrates this Black History Month to celebrate the leadership of Black American women peacebuilders.

Throughout US history, Black women have been at the forefront of social movements, yet their work is rarely recognized or included in our telling of American history. We at Our Secure Future are taking this Black History Month to celebrate the leadership of Black American women peacebuilders. The crucial work of these women is core to Our Secure Future's mission. 
While we could never compile a comprehensive list of all Black women peacebuilders, we want to recognize the work of those discussed in this post, and others like them. Their contributions to American history are immeasurable and crucial to the ongoing struggle for both equality and peace. 
Abolition
The Abolition movement is intrinsically tied to peace and a human-centered approach to security. Sojourner Truth and Harriet Tubman were both instrumental in this movement and helped shape not only the Abolition movement, but many movements thereafter. Their experiences mirror each other in many ways, but they each came to their activism with different approaches. They were both peacebuilders. 
Sojourner Truth was born in bondage in 1797. She was able to escape in 1826, and continued her work toward achieving abolition. She was the first Black woman in American history to sue a white man and win, regaining custody of her five-year-old son. 
Truth's career as an abolitionist and equal rights activist was defined by her constant movement. Throughout her activism, she met with President Lincoln, protested segregation by riding whites-only streetcars, and worked to find jobs for formerly enslaved people.
Truth was an activist in both the Abolition movement and the first-wave feminist movement. Although the word 'intersectionality' did not yet exist, Truth gave a speech in 1851 known as "Ain't I a Woman?" about that very thing. This became her most famous speech. Sojourner Truth spent her entire life fighting for human rights and intersectional equality.
Harriet Tubman was also born into bondage in 1820. Similarly, Tubman escaped and became a conductor for the Underground Railroad, helping others escape enslavement. Throughout her activism, she supported John Brown's Harpers Ferry raid, never lost a "passenger," and helped formerly enslaved people access food, shelter and jobs.
Tubman is considered the first Black woman to have served in the U.S. Military, serving as a spy, guerrilla soldier, and nurse for the Union Army during the Civil War. She was granted a military pension for her service later in life. 
Sojourner Truth and Harriet Tubman are by no means the only Black women peacebuilders from this era. There are names and stories we will never know. We celebrate them too.
Civil Rights
The Civil Rights movement is largely defined by Dr. Martin Luther King, Jr. His face and his voice are synonymous with civil rights. But, he is only one of the key players. The Civil Rights movement was, and is, multifaceted, with different branches and many leaders. As is the case with many movements, women were largely sidelined and used as symbolic figures. Only one woman was allowed to speak at the March on Washington in 1963. Shirley Chisholm, Marsha P. Johnson and Angela Davis are three women that contributed and led the Civil Rights movement in their own right.
Shirley Chisholm was the first Black woman in Congress and the first to run for president within a major party. She introduced more than 50 pieces of legislation focused on rectifying racial and gender inequality, tackling poverty, and ending the Vietnam War. 
Chisholm was a key figure in both the Women's Liberation and Civil Rights movements of the time. She received 10 percent of the total delegates during the primary in her run for the presidency, despite being refused a spot in primary debates. 
Marsha P. Johnson was an activist most commonly associated with the Stonewall riots. Johnson was a self-identified drag queen who used "pay it no mind" as both the "P" in her name and her answer when questioned about her gender. She helped found the Street Transvestite Action Revolutionaries (STAR) to support transgender youth who were experiencing homelessness. 
Johnson was a leader of the LGBTQ+ fight for civil rights after the Stonewall riots, a movement largely defined by white gay men. She was able to connect her intersecting identities and used that to fuel her activism. 
Angela Davis is a civil rights activist and educator. She was raised in segregated Birmingham, Alabama, where she witnessed the Birmingham church bombing and Ku Klux Klan violence. Davis joined the Black Panther Party in the 1970s and became a professor at the University of California, Los Angeles, and, later, the University of California, Santa Cruz. 
Davis has written about the intersections of gender, race and poverty, and about the consequences of incarceration. She is still lauded as a leader of both the Civil Rights movement from the 1960s and 1970s, to the modern Civil Rights movement today. 
These women each tackled the Civil Rights movement from their own unique perspectives. They represent the diversity of thought among the movements discussed here today. Although different in their tactics, they are each peacebuilders who have contributed to the ongoing fight for equality across all identities.
Present
The movement for equality is ongoing. No country in the world has yet achieved gender equality, and the United States continues to struggle with blatant racial inequality. These women stand on the shoulders of those from our past and are paving the way for the peacebuilders of the future. 
Stacey Abrams is a voting rights activist, political leader and former gubernatorial candidate in Georgia. She became the first woman to lead a party in the Georgia General Assembly, the first Black person to lead in the Georgia House of Representatives, and the first Black woman to become the gubernatorial nominee for a major party in the United States. 
Abrams has founded several organizations, including Fair Fight, to work toward ensuring voting rights for all Americans across all elections. As a testament to her tireless work toward equality in representation and treatment, she was nominated for the Nobel Peace Prize this year.
Black Lives Matter is a Black-centered political movement-building project founded in 2013 by Alicia Garza, Patrisse Cullors and Opal Tometi. Black Lives Matter now has more than 40 chapters globally and is dedicated to calling out and mobilizing around the mistreatment of Black people around the world.
The founders have stated:
"Black liberation movements in [the United States] have created room, space, and leadership mostly for Black heterosexual, cisgender men - leaving women, queer and transgender people, and others either out of the movement or in the background to move the work forward with little or no recognition."
These women are working to change that, and have repeatedly centered the experiences of Black women, particularly queer Black women, in their activism.
Black Lives Matter has also been nominated for the Nobel Peace Prize this year for the organization's continuing efforts against racism and racist violence. 
Although these women represent different periods in history and different methods of peacebuilding, they have each contributed to the ongoing struggle of creating a more peaceful and more just society. 
In 1977, the Combahee River Collective said, "We realize that the only people who care enough about us to work consistently for our liberation are us." This Black History Month, Our Secure Future stands in solidarity with Black women peacebuilders across the country and across time.