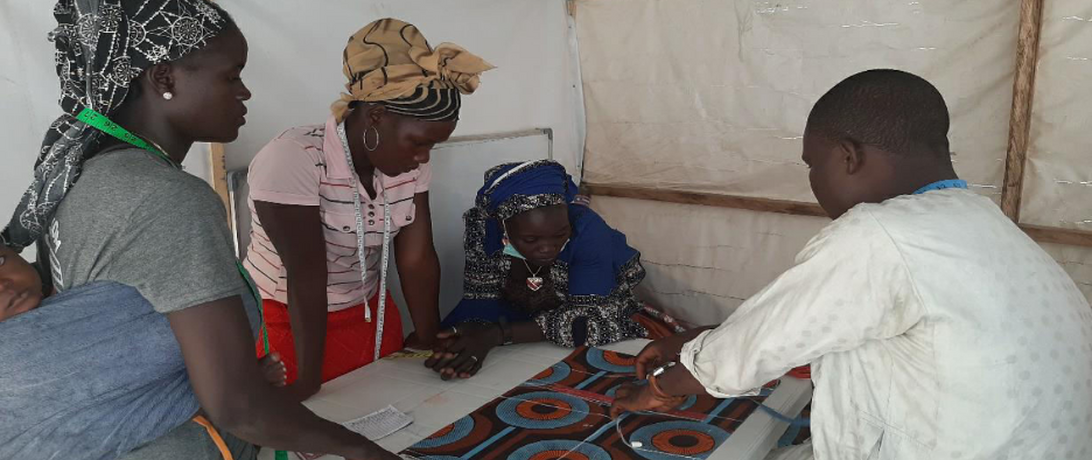 The Mobilizing Men as Partners for WPS July 2022 Awardee Spotlight goes to Mwada-Gana Foundation
The Mwada-Gana Foundation provides women and children with access to essential and lifesaving healthcare using a holistic approach. They provide lifesaving healthcare to children by using a fleet of volunteers who help families care for childhood illnesses, such as fever, diarrhea, and cough. Additionally, the Mwada-Gana Foundation works with other organizations to provide villages with health education. The health education trains village health workers to provide health information on women's health, including pregnancy, child health, hygiene, nutrition, and breastfeeding.
As one of the distinguished partners for women, peace, and security award recipients, the Mwada-Gana Foundation used its funds to train women in internally displaced persons (IDP) camps on a variety of skills including, soap making and milling. The one-month training process resulted in the trainees launching their own small businesses.
The unrestricted funding also allowed the Mwada-Gana Foundation to be flexible to identify a gap in their services. For example, after providing health education, the Mwada-Gana Foundation went back to the same village to provide hygiene kits and give them more information about gender-based violence (GBV), in particular. With unrestricted funding, the foundation could do so much more and provide services to a lot of people.
In the future, the Mwada-Gana Foundation wants to create a safe space for women. The goal would be, over the span of 3 months, to give women information about reproductive health, family planning, nutrition, rights, services, and GBV and then give them kits to bring back to their communities to educate them. Additionally, the Mwada-Gana Foundation wants to provide information and train women about finance including, accessing funds in the bank. The Mwada-Gana Foundation identified that having access to information about finance is one of the biggest issues that women they serve face.