Designing Our Secure Future 2017: Participant Profiles
Rana Allam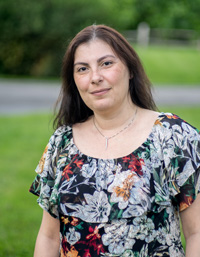 Women's Alliance for Security Leadership (WASL), Canada
Rana Allam is an advisor and editor with the Women's Alliance for Security Leadership (WASL) organization and International Civil Action Network (ICAN). She has extensive knowledge of the political scene in the Middle East region with a focus on Egypt. Ms. Allam is the former chief editor of Daily News Egypt (DNE) newspaper in Cairo, the only independent daily print paper in English. She began her journalism career in 1995. She is currently a commentator on Middle East political affairs and on women and human rights issues. Her work has appeared in many publications including Inter Press Service, IDN-InDepthNews, Sisterhood Mag and Daily News Egypt. She was profiled by the Nobel Women's Initiative, and was a panel speaker in several international conferences, including the UN Commission on the Status of Women, the Carter Center's Human Rights Defenders Forum, the End Sexual Violence in Conflict Summit held in London, and the Arab Media Forum in Jordan.
Sanam Naraghi-Anderlini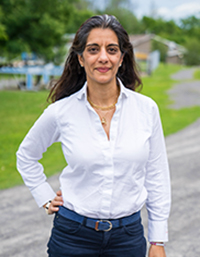 International Civil Society Action Network (ICAN), USA
Sanam Naraghi-Anderlini is the Co-Founder and Executive Director of the International Civil Society Action Network (ICAN). For over two decades she has been a leading international peace strategist. In 2000, she was among the civil society drafters of UN Security Council Resolution 1325 on Women, Peace and Security. In 2011, Ms. Naraghi-Anderlini was the first Senior Expert on Gender and Inclusion on the UN's Mediation Standby Team. She provides guidance and training to senior personnel in UN agencies, governments and NGOs worldwide, and has worked in conflict affected countries globally, including leading assessments in Maoist cantonments in Nepal.
Ms. Naraghi-Anderlini is an adjunct professor at Georgetown University. Between 2004-2015 she was a Research Associate and Senior Fellow at the MIT Center for International Studies. She has published extensively on peace and security issues, including Women Building Peace: What they do, why it matters (Lynne Rienner Publishers, 2007). She was the 2014 recipient of the UN Association of the National Capital Area Perdita Huston Award for Human Rights. In 2016, she was appointed the Greeley Peace Scholar at the University of Massachusetts. Ms. Naraghi-Anderlini holds an M.Phil in Social Anthropology from Cambridge University. Iranian by birth, she is a UK citizen, and has twin daughters.
Mavic Cabrera-Balleza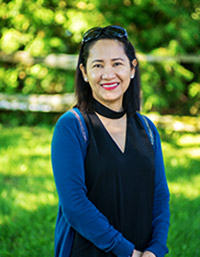 Global Network of Women Peacebuilders, USA
Mavic Cabrera-Balleza is the international coordinator for the Global Network of Women Peacebuilders. She leads the group's programs that carry out Security Council Resolutions 1325 and 1820, which ensures women's role in peace and security in conflict situations. Most recently, Ms. Cabrera-Balleza, a Filipino, was in Sierra Leone, working on such a project. Her previous job was coordinator of the International Women's Tribune Center's human rights, peace-building and human security program. She has a Master's degree in communication research with a focus on women's studies.
Cynda Collins Arsenault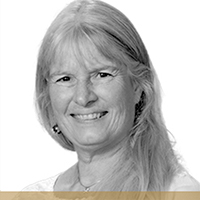 Our Secure Future: Women Make the Difference, USA
Cynda Collins Arsenault is a Co-Founder and Board Member of One Earth Future (OEF) and the Arsenault Family Foundation. She is also Co-Founder and President of Secure World Foundation, an operating foundation promoting cooperative solutions for the secure and sustainable use of outer space for the benefit of humanity. More recently, she established and works with one of OEF's newest initiatives, Our Secure Future: Women Make the Difference.
In her personal philanthropy she focuses on bringing women's critical skills to the table for solving the difficult problems we face, with a particular focus on Women, Peace and Security. She is a member of the Women's Donor Network, Women Moving Millions and The International Women's Forum. She is also the founder of Women Powering Change, an annual gathering of women working to create a better world. Ms. Collins Arsenault received her B.A. in Sociology and Psychology at University of California, Berkeley and her M.A. in Education from Colorado State University. She has 45+ years of experience in non-profit work, including peace and justice, criminal justice, mental health, disability rights and environmental issues.
Visaka Dharmadasa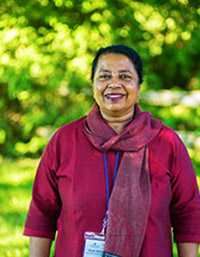 Association of War Affected Women, Sri Lanka
Visaka Dharmadasa is the founder and Chair of the Association of War Affected Women and Parents of Servicemen Missing in Action. Ms. Dharmadasa educates soldiers and community leaders about international standards of conduct during war, specifically to raise awareness about the importance of soldier's identification tags and treatment of prisoners of war. She received the prestigious Humanitarian Award in 2006 from InterAction in Washington, D.C. and was nominated for a collective Nobel Peace Prize in 2005, in coordination with the "1000 Peace women across the globe" movement. She is currently a member of the Civil Society Advisory Group of UN Women for the region, and a member of the consultation task force on reconciliation mechanisms appointed by the Government of Sri Lanka. Ms. Dharmadasa studied Negotiations and Mediation Skills at the United States Institute for Peace, and Women and Security at Harvard University. See her blog post here.
Sahana Dharmapuri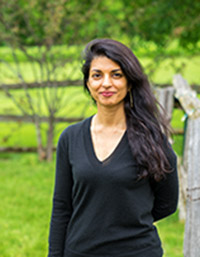 Our Secure Future: Women Make the Difference, USA
Sahana Dharmapuri is the Director of the Our Secure Future: Women Make the Difference, a program of the One Earth Future Foundation (OEF). From 2006-2016 she was an independent gender advisor on gender, peace, and security issues to USAID, NATO, The Swedish Armed Forces, the United States Institute for Peace, International Peace Institute, and other international organizations. In 2016, Ms. Dharmapuri was a writer-in-residence at the Carey Institute for Global Good for her work on Women, Peace and Security. She was appointed a Fellow at the Carr Center for Human Rights Policy at the Harvard Kennedy School of Government (2011-2013), and she was an Investing in Women in Development Fellow at the United States Agency for International Development (2003-2005). She has published widely on Women, Peace and Security issues including by Ms. Magazine, CNN, Christian Science Monitor, Women's E-News, Human Rights Quarterly, The Global Responsibility to Protect Journal, The Alliance for Peacebuilding Online Journal, The US Naval War College's Women, Peace and Security monograph series, and Parameters: The Senior Professional Journal of the US Army. Recent public appearances include, The Kroc Institute in San Diego, the OSCE-Vienna, the Western Hemisphere Institute for Security at Ft. Benning, and the US Naval War College. Ms. Dharmapuri holds a B.A. and two Master's Degrees from the University of Chicago.
Selma Djukic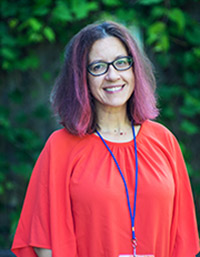 Women, Peace and Security Network, Canada
Selma Djukic is a graduate of the University of Toronto and a pioneer amongst early community youth workers in the Canadian Muslim community. Ms. Djukic has dedicated the better part of over 30 years to empowering youth and women through the initiation and development of numerous grassroots, national and international organizations. She is a past member of the Community Editorial Board for the Toronto Star and has held a seat on executive national boards for non-profit organizations, including the International Development Relief Foundation. As past-Board Chair of the National Council of Canadian Muslims, she endeavoured to protect the human rights and civil liberties of all Canadians. A past presenter at conferences, including the Women's Worlds congress, Ms. Djukic was also a participant in the inaugural hackathon held by Affinis Labs, designing social media tools to counter violent extremism. Ms. Djukic is currently a member of the Steering Committee for the Women, Peace and Security Network—Canada.
Jamie Dobie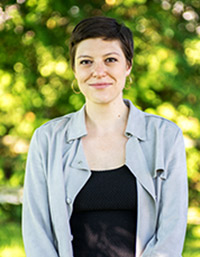 Peace is Loud, USA
Jamie Dobie is the Executive Director of Peace is Loud, a non-profit organization founded by Abigail Disney that uses documentary film and speaking events to highlight the stories of women peacebuilders. Peace is Loud has led international impact campaigns for The Trials of Spring, The Armor of Light and the five-part PBS series Women, War & Peace, and its speakers bureau represents renowned women human rights leaders including Nobel Peace Laureate Leymah Gbowee and UN Special Rapporteur Karima Bennoune. Peace is Loud's newest program, Mina's List, leverages the power of storytelling to realize women's equal and substantive representation in national governments around the world. Jamie frequently speaks on the role of media in popularizing the Women, Peace and Security agenda. Recent public appearances include The Naval War College, Fletcher School of Law & Diplomacy, The Hague and The American Film Institute. Prior to joining Peace is Loud, Jamie was the community engagement and education manager for the PBS documentary series POV. Her short documentary SHIVANI was an official selection of the 2017 Full Frame Documentary Film Festival and 2017 AFIDOCS.
Rodolfo Manuel Domínguez Márquez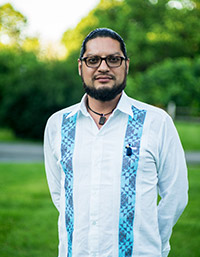 Justice, Human Rights and Gender Civil Association, Mexico
Rodolfo Manuel Domínguez Márquez is a 36-year-old Mexican lawyer specializing in addressing gender violence against women, and increasing protection mechanisms for women in situations of violence and femicide. Currently, he is Coordinator General of the Justice, Human Rights and Gender Civil Association, an organization that conducts strategic litigation and monitoring cases of femicide, shares incidence in implementing research protocols on femicide, and mechanisms to protect women in situations of violence, and partners with National Citizens' Femicide Observatory and the Women's Alliance for Security Leadership WASL. He was part of the strategic litigation team that obtained, from the National Supreme Court of Justice, the first precedent regarding femicide and due dilligence in its investigation and prosecution, in the case of Mariana Lima.
Mr. Dominguez has influenced the implementation of the Declaration of Alert for Gender Violence in states of the Mexican Republic such as, Estado de México, Chiapas, Nuevo León, Veracruz and Jalisco, which is a collective mechanism for the protection of women, which highlights contexts of serious violence and discrimination against women and establishes urgent measures to correct the public policy of security, justice, and prevention. He has participated as a speaker at various national and international forums on gender violence, femicide, and implementation of protection orders and facilitator in training civil servants enforcement and administration of justice.
Nimalka Fernando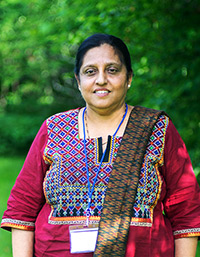 International Movement Against All Forms of Discrimination and Racism (IMADR), Sri Lanka
Nimalka Fernando of Sri Lanka is a prominent human rights defender, lawyer, and activist with over 30 years of peacemaking experience. She is a Co-Chair of South Asians for Human Rights and the president of the International Movement against All Forms of Discrimination and Racism (IMADR) — an organization dedicated to eliminating discrimination and racism, forging international solidarity among discriminated minorities, and advancing the international human rights system. Ms. Fernando has been a founding member of several organizations, including a network of women's organizations and activists committed to peacebuilding, known as Mothers and Daughters of Lanka. In 2011, she received the Citizen's Peace Award from the National Peace Council of Sri Lanka. She continues to face repression and threats for her fervent calls for accountability for alleged war crimes committed during the war.
Ellen Friedman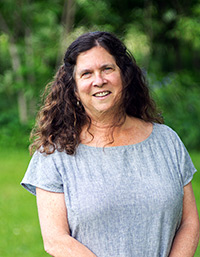 The Compton Foundation, USA
Ellen Friedman is the Executive Director at the Compton Foundation, which seeks to ignite change toward a sustainable, just, and peaceful future. The Foundation's program strategy supports transformative leadership and courageous storytelling in the areas of peace, environment, and women's reproductive health, rights, and justice. Previously Ellen served as the Executive Vice President of Tides where she worked for 23 years with individual donors and other social change activists. During her tenure at Tides, between 1999 and 2005, Ellen led the Community Clinics Initiative, a partnership between The California Endowment and Tides, which supported the technology capacity development of California's Community Health Centers. Ellen brings to her work a deep interest in organizational design and leadership, innovative grant program development and implementation, and a passion for transformative social change around the world. She is a trustee of Futures Without Violence, formerly Family Violence Prevention Fund and a member of The California Endowment's Building Healthy Communities Advisory Board.
Fahima Hashim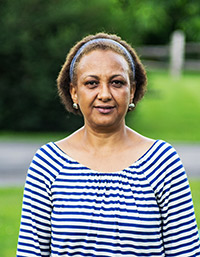 Salmmah Women's Resource Centre, Canada
Fahima Abdel Hafiz Hashim is a feminist women's rights defender and activist experienced in action research, and a facilitator/trainer, born in Sudan, in 1963, who to this day is devoting her life to promote radical change for women/young women and their place in society. She serves as the Director for Salmmah Women's Resource Centre. She is a graduate of Bayero University, Kano, Nigeria where she obtained her Master's in Documentation and Library Sciences. She also holds a degree in Psychology from Ahfad University for Women, Omdurman, Sudan. Ms. Hashim has over 28 years of experience in the area of women/gender and rights, with a special emphasis on women's rights, sexuality, violence against women/in conflict, and peace. Ms. Hashim is a sought after public speaker, and an experienced feminist campaigner who is well connected with the African women's movement. She has demonstrated her commitment to being a strong leader and facilitator for positive social change. Currently, she resides in Hamilton City, Canada.
Tanya Henderson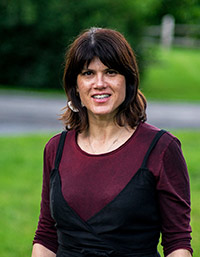 Mina's List/Peace is Loud, USA
Tanya Henderson is an international human rights and gender lawyer focused on advancing the rights of women and women's role in peace-building (WPS agenda) through U.S. policy, the United Nations, international multilateral agencies and civil society, and coalition building among global women political leaders. In 2014, Ms. Henderson founded Mina's List, an international NGO with the mission to realize women's equal and substantive political representation globally. Prior to starting Mina's List, Tanya was the Policy Director for Women's Action for New Directions (WAND), where she helped draft the Women, Peace and Security Act of 2013 and lobbied for women's equal role in all U.S. diplomatic, development and defense-related work in conflict-affected environments.
Ms. Henderson also serves on the Executive Committee for the U.S. Civil Society Working Group on Women, Peace and Security (U.S. CSWG) convened by the U.S. Institute of Peace (USIP). Her work has been published in the Journal of Politics and Law and the International Journal of Women's Health, as well as other print and social media outlets. Ms. Henderson received her Bachelor of Science (B.S.) from the University of Massachusetts Boston, her Juris Doctorate (J.D.) from Suffolk University Law School and pursued her Master's of Law (LL.M) in international law from The Fletcher School of Law and Diplomacy at Tufts University. She has also earned several certificates in mediation and conflict negotiation.
Charlotte Isaksson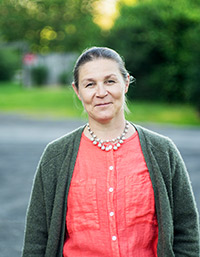 European External Action Service, EU
Charlotte Isaksson is a Gender Advisor for EEAS European Union, working as an Advisor to the EU Principal Advisor on Gender and Women, Peace and Security. Prior to her current role, she was the Gender Advisor to SACEUR and within Allied Command Operations (ACO), NATO at SHAPE. Earlier, she served as the Senior Gender Advisor to the Swedish Armed Forces Headquarters, Directorate of Operations. She was previously active duty with the Artillery Corps, before leaving military duty as an officer (she is still in the Reserve) to pursue academic studies within social sciences and women's studies. Her studies have focused on gender dimensions and social interactions as well as military training and education.
Ms. Isaksson is also a certified leadership and team development trainer with extensive experience from both private and government organizations. Her main work with the Swedish Defence forces has been on gender issues and strategies for implementation of UNSCR 1325 and 1820. During 2006 Ms. Isaksson was appointed to the EU Forces mission in Congo (EUFOR RD CONGO) as Gender Advisor in the Operational and Force Headquarters, and has been on standby for the Nordic Battle Group OHQ in Northwood, England. She is the founder and partner of a European Gender/UNSCR 1325 programme called Genderforce, which brings together several organizations under a comprehensive framework, in order to highlight gender perspectives, and develop the implementation of UNSCR 1325 (2000) and its subsequent resolutions in operations.
Miki Jacevic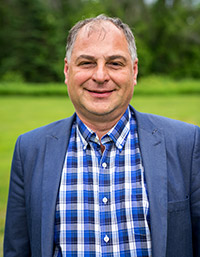 Inclusive Security, USA
Vice Chair Mirsad "Miki" Jacevic has been integral to the conceptualization and the work of Inclusive Security since its founding in 1999. A native of Sarajevo, he attributes his inspiration to his experience supporting women peacebuilders working to stop the bloodshed and promote reconciliation in war-torn Bosnia and Herzegovina. Now, after two decades of finding practical solutions to seemingly intractable conflicts in more than 40 regions, he leads Inclusive Security's effort to promote lasting, systemic change around the world by developing national action plans that ensure women's leadership in peace and security affairs. Before joining Inclusive Security, Mr. Jacevic directed the Emerging Leaders Project at the State of the World Forum and managed reintegration efforts for child soldiers at Search for Common Ground. He is a PhD candidate at George Mason University's School for Conflict Analysis and Resolution, and he teaches at American University, Georgetown University, and the School for International Training, with a special focus on transitional justice. He and his wife, Guatemalan human rights activist Eva Morales, live near Washington, DC with their two children.
Ruth Ojiambo Ochieng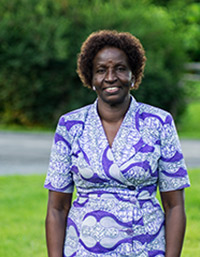 Isis-Women's International Cross-Cultural Exchange, Uganda
Ruth Ojiambo Ochieng is an independent consultant in the area of Women, Peace and Security. Her strength lies in peace building, and spearheading alliances to form collaborative agendas between the marginalized, the elite, and policymakers, so as to challenge injustices, prejudice, taboos and stigma related to women survivors of violence, and in particular, those in situation of armed conflicts. She holds a Master's in Communications Policy Studies from City University London, 1992; and a B.Sc. in Applied Social Sciences (Information and Communications), from the Polytechnic of North London, 1991. She has also undertaken several short courses in Gender Analysis, Human Rights, Advocacy, and Peace Building and Conflict Resolution. In 2015, she trained in Women in Mediation and Electoral Processes, at the Pan African Centre for Gender, Peace and Development, Dakar, Senegal. During her 15-year tenure of her leadership at Isis-Women's International Cross Cultural Exchange (Isis-WICCE), a feminist organization, she created strategic networks and allies, and innovatively built a people-centered human security approach to peace building that particularly responded to the strategic needs of survivors of sexual violence and torture.
In 2013, Ms. Ochieng was appointed by UNWOMEN to the High Level Advisory Board for the Global Study on the implementation of the UNSCR 1325. In 2016, she was appointed as a Civil Society Advisory Governor to the Commonwealth Foundation. She has received awards at national, regional and international levels for her innovative approaches and commitment to women's peace building. Ms. Ochieng has authored many papers and articles, some of which have been published in books as well as online. She is currently writing a book on her leadership experience.
Abigail E. Ruane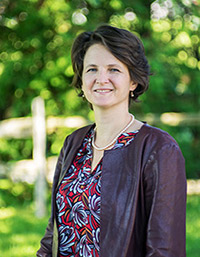 PeaceWomen, Women's International League for Peace and Freedom (WILPF), USA
Abigail E. Ruane is Director of the PeaceWomen Programme of the Women's International League for Peace and Freedom (WILPF) and leads work on Women, Peace and Security from the WILPF UN office in New York. She is a recognized women's human rights expert and leads PeaceWomen's advocacy in addressing silos between security and development processes at the UN. Ms. Ruane's advocacy builds on her internationally recognized, award winning doctoral research on global negotiations over women's rights. Before joining PeaceWomen, Ms. Ruane acted as WILPF-US Representative to the United Nations (UN), consulted on gender and sustainable development at the Women's Environment and Development Organization (WEDO), and taught human rights classes at Hunter College.
She is committed to envisioning and creating a world of gender justice, and has written a book on using J.R.R. Tolkien's The Lord of the Rings to teach about International Relations. Ms. Ruane holds an M.A. and Ph.D. in International Relations from the University of Southern California (USC) and a B.A. in Psychology from Cornell University.
Rosa Emilia Salamanca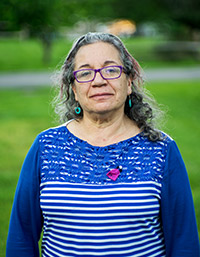 Corporación de Investigación y Acción Social y Económia (CIASE), Colombia
Rosa Emilia Salamanca is a feminist advocate of women's rights with great knowledge of indigenous people, training, and practice in public human and political rights, gender perspectives, and anthropology. She is currently the strategic director of CIASE Corporation – an organization working for peace, human rights and democracy in the country from a feminist perspective. Furthermore, she exerts El Colectivo de Pensamiento y Acción Mujeres, Paz y Seguridad – a space that brings together more than 53 organizations in the country and a hundred women, and is working in lobbying and advocacy around the Resolution 1325 and related to the Security Council of United Nations.
Chelsea Soderholm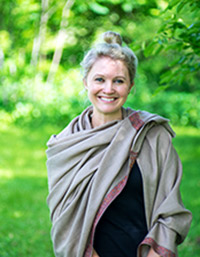 Women's Regional Network (WRN), Canada
Chelsea Soderholm serves as the Chief Operating Officer overseeing all programming of the Network in Afghanistan, Pakistan, and India. She previously served as the WRN Regional Coordinator for 3 years and as a Project Coordinator for the South Asia Forum for Human Rights in Delhi, India. She has lived and spent extensive time in South Asia including Afghanistan, Pakistan, India, Nepal and Sri Lanka, organizing large scale conferences, advocacy initiatives and field research on Women, Peace and Security focusing on militarization, protection of women human rights defenders, access to justice and women's role in peacebuilding. Previously, in Brussels, Belgium she served as a consultant for Mary Robinson's organisation Realizing Rights and the UN Civil Society Advisory Group on Women, Peace and Security. She has worked in the Balkans on health care issues and in Seoul, South Korea as a human rights advocate for North Korean women defectors. Ms. Soderholm works with a number of grassroots organisations in South Asia and serves as a Special Ambassador for the Maitreya Foundation for Tibetan children (India) and Janakpur Handicrafts (Nepal) as well as a member of Canassist at the Canadian High Commission, India. Ms. Soderholm has a Master's Degree in International Relations from the University of Kent in Brussels, and an undergraduate degree in Psychology from Dalhousie University in Canada.

Rachel Vincent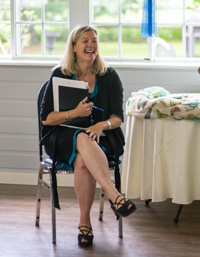 Nobel Women's Initiative, Canada
Rachel Vincent has been with Nobel Women's Initiative since 2008. Ms. Vincent has led the organization in its work with grassroots women organizations and movements in Latin America, and has led fact-finding delegations to the region. Ms. Vincent started her career as a radio journalist, working for six years in Canada, the US and Mexico, including hosting an afternoon radio program in Mexico City. She left journalism to be the head of communications for the Commission for Environmental Cooperation, a tri-governmental organization created by the North American Free Trade Agreement and based in Montreal. For the last 18 years, Ms. Vincent has turned her in-depth understanding of advocacy and media towards advising non-governmental organizations and social justice activists on how to communicate their messages most effectively to governments and media. Ms. Vincent speaks and writes regularly about women's rights, and is the editor of When We Are Bold: Women Who Turn Our Upsidedown World Right, published in September 2016.
Beth Woroniuk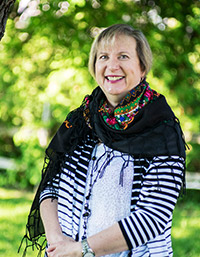 Women, Peace and Security Network, Canada
Beth Woroniuk has worked on women's rights and gender equality issues in international development for over 25 years. She has been involved in Canadian civil society initiatives relating to Women, Peace and Security for almost two decades and is a founding member and Coordinator of the Women, Peace and Security Network-Canada (WPSN-C). Ms. Woroniuk has worked as a consultant/advisor for numerous international agencies and NGOs on gender equality and women's empowerment. She has a particular specialty in gender dimensions of peacebuilding, armed conflict, and humanitarian assistances that was kick-started during her time working in Nicaragua in the mid-1980s. Ms. Woroniuk has developed analytical tools, supported policy development, designed training, conducted evaluations, and provided technical support on a wide range of issues related to gender equality and women's empowerment. She has helped staff of numerous agencies better understand the relevance of gender dimensions of conflict-affected and fragile states. Ms. Woroniuk is also a member of the Core Group of the NATO Civil Society Advisory Panel on Women, Peace and Security. Her most difficult feminist challenge has been as a mother to two sons. Now based in Ottawa, Ms. Woroniuk is originally from western Canada and still has prairie dust running in her veins.