When It Comes to Peace and Security, What Do the Women Say?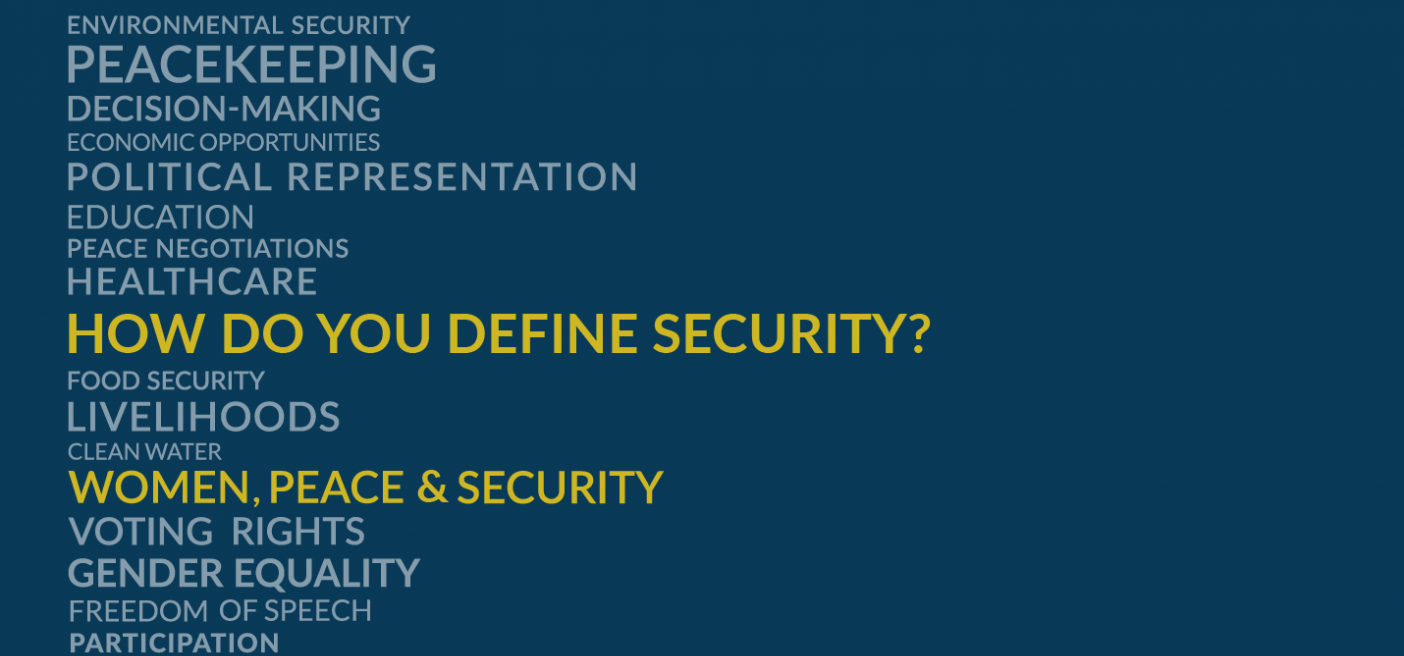 On October 31, 2000, the United Nations Security Council unanimously passed United Nations Security Council Resolution 1325 (UNSCR 1325) on Women, Peace and Security as the first formal recognition by the international community of the critical roles women play in conflict prevention, conflict resolution, and peacebuilding. The mandate brought attention to gender equality in all aspects of international peace and security decision-making. When UNSCR 1325 first passed, the Office of the Special Advisor on Gender Issues and the Advancement of Women declared,
"The resolution reaffirms the important role of women in the prevention and resolution of conflicts, peace negotiations, peace-building, peacekeeping, humanitarian response and in post-conflict reconstruction and stresses the importance of their equal participation and full involvement in all efforts for the maintenance and promotion of peace and security. Resolution 1325 urges all actors to increase the participation of women and incorporate gender perspectives in all United Nations peace and security efforts."
Since its first anniversary 18 years ago, this transformative agenda has led to broader understanding of the important role that women play in governance, peacebuilding, and peacekeeping operations. It is widely accepted that including women in peace processes makes them 64 percent less likely to fail and 35 percent more likely to last at least 15 years, meaning women's participation leads to more sustainable peace. Studies have also found that having more women in politics leads to better policy outcomes and social welfare.
With these data in mind, it is more apparent than ever that the global community needs to take the voices of women into account to build sustainable peace and security.
Redefining Security
Over the past year, Our Secure Future, along with partners World Pulse and the International Civil Society Action Network (ICAN), has been polling women globally on how they define security and how the traditional definition of security has affected them. Women around the world submitted their stories online with interviews conducted in the Middle East and Indonesia. The main themes of the project focused on the relationships between security and representation, peacekeeping, and power.
A key finding of the survey is that women have never been asked about what they consider crucial for their security. The women surveyed showed that the traditional definition of security—as in the safety and protection of a country's borders and land—was not their top priority. Instead, women more frequently highlighted a lack of representation in military and peacekeeping forces, religious discrimination, domestic violence, and family insecurity. The final survey results will be released in 2019. Preliminary findings from ICAN show that women are likely to link security with human rights, that they are concerned about both religious discrimination and radicalization, and that women feel their views and the views of their communities differ from state-level security concerns.
So far, the top concern expressed in the results collected by ICAN and Our Secure Future is a lack of trust in traditional security actors, such as military and peacekeeping personnel. Women have fewer opportunities to participate in the traditional security and peacekeeping sector. One respondent said, "I think women are second class in society and in the military, women are minorities." As a result, many women expressed that they feel estranged from peace and security networks. On other occasions, women recalled instances of violence perpetrated by members of state militaries or peacekeeping forces, often stating they feel disempowered to report such instances because security systems are complicit in the abuse. This is important because it prevents women from accessing traditional forms of security and placing their trust in authorities dedicated to civilian protection.
In Indonesia and elsewhere, growing religious tensions have created chasms within society, causing a breakdown between neighboring groups. In the survey of Indonesian women peacebuilders and activists, women frequently expressed feeling as if their relationships within their communities are weakening or that they are being persecuted due to their identity. Some noted that their relationships with neighbors of different faiths have disintegrated over time. Muslim women who were polled often stated that they feel specifically persecuted because of their hijab and are wrongfully associated with terror groups, which threatens their sense of physical security.
The concern over family security and domestic violence was brought up many times over the course of the survey. Across a variety of countries and cultural contexts, women feel that domestic violence is prevalent and harmful to efforts for gender equality, as well as damaging to families. One respondent from Indonesia noted that "domestic violence is very cyclical—[men] see their fathers doing it and they are then, in turn, using violence against their siblings and friends." A common theme of gender inequity within households emerged, ranging from physical abuse to disparity in economic and social power.
Lack of consistent ability to meet basic needs is also a concern for women tasked with caring for their families. Women play a role as caretakers and thus see threats to the safety and well-being of their families as threats to security more broadly. While concerns captured a variety of basic health needs, the overwhelming trend is that women are concerned with conditions that negatively impact the well-being of their family and see these threats as crucial to security, whether they are directly impacted or not.
The Future of Peace and Security
This global survey reveals that women's concerns in regard to security are different from traditional or state security. Women's security priorities place greater emphasis on the need for a gender perspective in security forces and the need to address religious discrimination, domestic violence, and the well-being of family of units. Women's lack of access to traditional forms of power, representation, and decision-making in the security sector leads to these gaps. Amplifying the voices of women through the Women, Peace and Security agenda will fill these gaps in international peace and security, providing better security not only for women but also for their families and communities.
*To learn more about the Global Polling Project and view additional results, check out our webpage!