Violence against Journalists Continues as Hateful Rhetoric Grows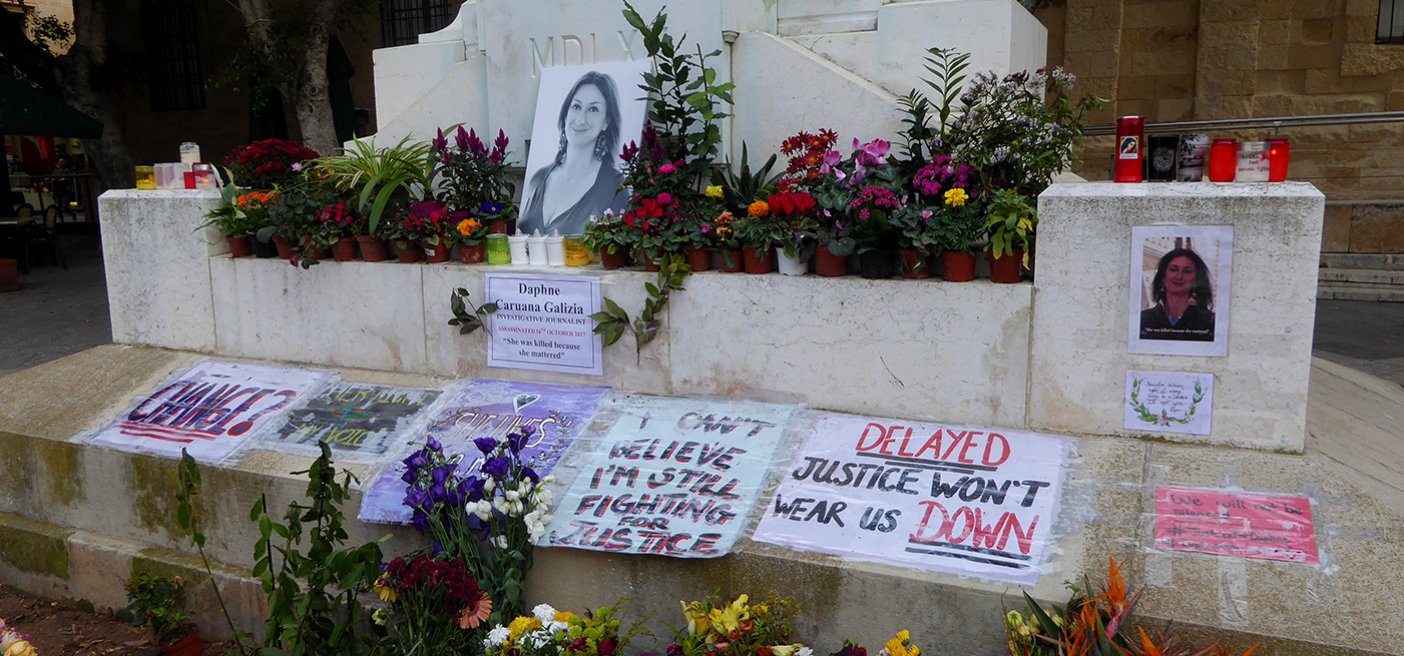 In recognition of the International Day to End Impunity for Crimes against Journalists, we must acknowledge the historic and unprecedented threat female journalists face today. Female journalists are attacked, harassed, and threatened—both in person and online—every day. Across the globe, they are killed, assaulted, and defamed, all for simply pursuing the truth.
In fact, mass harassment of journalists has never been easier. Attackers have used free platforms such as WhatsApp, Facebook, Twitter, and Instagram to attack female journalists and do so without ever having to leave their home. Threats against the life of a journalist, as well as general spewing of hate, whether verbally or online, can be distributed instantly and on a massive scale.
A recent publication by Reporters without Borders quoted journalists as saying that they had been attacked "on a scale they never imagined possible." The death toll of journalists is just as staggering as the massive hate found online. Between 1992 and 2018, some 1,324 journalists have been killed worldwide.
The Committee to Protect Journalists puts out an annual Global Impunity Index, which spotlights countries where journalists are slain and their killers go free. In this year's report, Somalia tops the list for the fourth year in a row. Colombia, Afghanistan, and one other country have all rejoined the list.
Most victims included in this report are local journalists. Most offenders in the report are states where instability caused by conflict, and violence by armed groups, has fueled impunity. Countries where journalists are covering corruption, crime, politics, business, and human rights have been targeted by suspects who have the means and the influence to circumvent justice through political influence, intimidation, and wealth.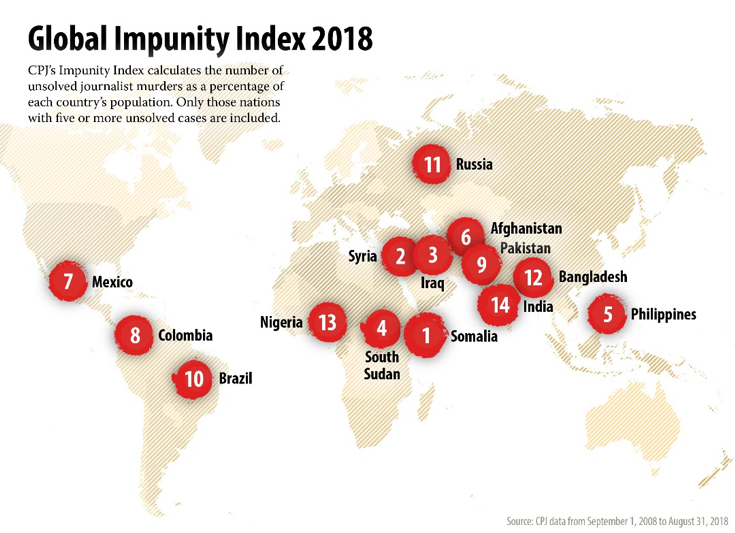 The report above details how dangerous it is for female and male journalists alike globally. But what specific challenges do female journalists face? A New York Times opinion piece by freelancer Rana Ayyub describes how much worse it can get for females. Ayyub recounts how she was sitting in a New Delhi café with a friend when a pornographic video appeared on her mobile phone. She was stunned to see her face edited onto a naked woman performing a sex act. Additionally, she has received rape and death threats online for her political reporting and coverage of India's minority groups.
Other female journalists have spoken out about the types of harassment they have received. In a report released earlier this year, women pointed out that they often receive threats of intimidation, rape, and death as well as vulgar references to physical appearance. An online editor for a German news organization was quoted in the publication as saying that the harassment she received was not aimed at her work but at "the destruction of my person."
While the above forms of harassment, and the rate of occurrence, are troubling, there is hope in the form of female journalists' taking a stand. In Cameroon, a coalition of female journalists, led by the prize-winning reporter Comfort Mussa, has launched a campaign called #StopSexualHarassment237. Named for Cameroon's country code, the campaign targets the Cameroonian media industry and aims to eliminate sexual harassment and intimidation against female journalists.
Other examples of journalists' creating solutions to the problem include Pakistani media leaders who created a group called Editors for Safety, on WhatsApp. The encrypted messaging app is being used to "report, confirm and collect evidence of abuse against journalists."
In Colombia, a project based on the premise of safety in numbers, called the Consejo de Redaccion (Editorial Board) of Colombia, brings together a network of journalists who promote joint investigative projects. The reporters protect themselves by collaborating on stories that often bring harm to journalists, such as political corruption, narcotics trafficking, and other forms of organized crime. The byline on these stories reads "written for the Consejo de Redaccion."
While these stories give hope to the possibility of systemic change, not everyone can bring together a group of journalists without worry over retaliation. Below are some of the options, classes, and suggestions that female journalists can take to protect their well-being.
The safety of female (and male) journalists should be a high priority for all. As Elodie Vialle, head of the Reporters without Borders journalism and technology desk, once said, "It's not only about protecting journalists. It's about protecting the integrity of the public debate and our democracies."