In South Sudan, Are Celebrations Over Recent Peace Too Soon?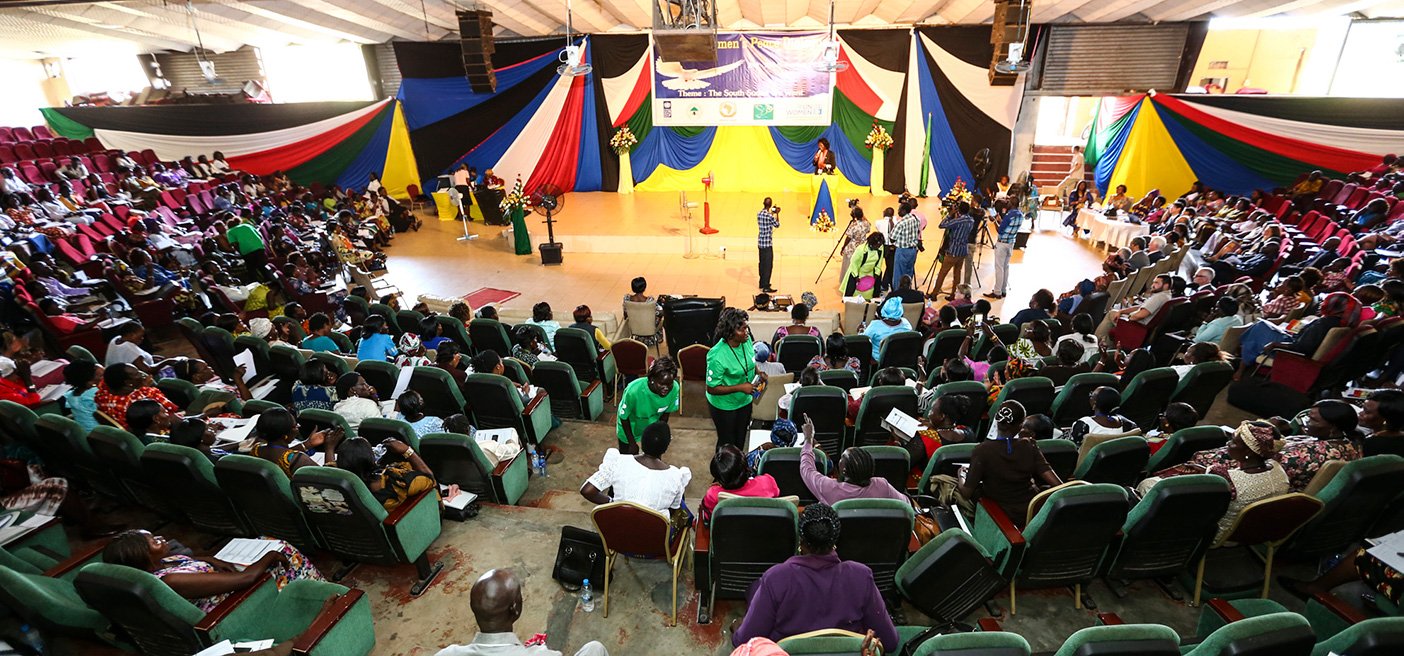 This is the second in a blog series on civil society engagement in the Women, Peace and Security agenda, which shares perspectives from multiple focus areas of One Earth Future. Lead advisors for the series include Alexandra Amling, Kelsey Coolidge, and Catie Fowler. Read the first here.
Another peace agreement has been signed and celebrated in South Sudan. However, it is essentially the same agreement that was signed in 2015, which collapsed a year later. Also like the agreement of 2015, women were yet again not invited to participate fully in the peacemaking process. While a variety of factors contribute to the success of such an agreement, women's inclusion is one of the best determinants.
Background on the Conflict
Since gaining independence from Sudan in 2011, South Sudan has been a country torn apart by warfare. With a coalition government led by a president and vice president from two historically opposing parties, political tensions escalated soon after the young government shut down national oil production following a dispute with the northern Sudanese. The country's infrastructure and political stability were already fragile and the cut in oil production led to a loss of 98 percent of state revenue; coupled with the corruption among South Sudan's political elites, the young state was hard-hit.
It was almost inevitable that fighting between tribal groups broke out. The military had yet to be formally integrated and was still ethnically based. Vice President Riek Machar mobilized the Nuer "White Army" to end the civilian violence; President Salva Kiir viewed this as a betrayal and the conflict solidified as a standoff between Nuer and Dinka militias. Since that time, it is estimated that over 50,000 people have been killed and more than 4 million have been displaced. As of 2015, the cost of the conflict was estimated between $22 billion and $28 billion. Seven failed ceasefires and numerous rounds of unsuccessful talks show that a change in the way that conflict has been handled is needed.
Why Have Women at the Table?
Foremost, there is a clear need to bring more women's voices into the process. Experience from other conflicts suggests that women's inclusion in both the peace negotiation processes and the institutions and structures defined by those agreements is essential to the success of those efforts. Studies show that peace agreements are 64 percent less likely to fail and 35 percent more likely to last at least 15 years when women are included in the process. Furthermore, peace processes that include women as witnesses, signatories, mediators, and/or negotiators demonstrate a 20 percent increase in the probability of the peace agreement lasting at least two years. When it comes to the formation of new states, the evidence shows that women are also a critical component of successful constitution drafting.
Inclusion needs to go beyond those commissioned to draft the peace agreements and into the language of the document text itself. Gender-neutral text, meaning text that has no mention of males or females, can actually have an exclusionary effect as it provides no guarantee that the specific needs of women, men, boys, and girls will be met during implementation.
In the case of South Sudan, this is important because of the differing experiences of men and women during the conflict. The conflict has resulted in an increase in female-headed households as more men have been mobilized to fight. Additionally, while both men and women have experienced sexualized violence, women have been more commonly targeted; 65 percent of South Sudanese women have experienced sexual or physical violence, which is twice the global average. In one refugee camp, over 50 percent of women reported having experienced rape.
As a state, South Sudan is not known for its compliance with international human rights standards or the Women, Peace and Security (WPS) agenda. The poor conditions for women, combined with the fact that the state does not have a National Action Plan (NAP) on WPS, make it difficult for women to be included in the state-building process.
Peace Agreement of 2015
President Salva Kiir signed the 2015 South Sudan Peace Agreement on Aug. 26, 2015, after almost 20 months of armed conflict. The agreement was endorsed by Riek Machar, leader of the Sudan People's Liberation Movement in Opposition (SPLM/IO), and by Pagan Amum, on behalf of the Former Political Detainees group, as well as by other South Sudanese stakeholders.
What did it do?
At first glance, the 2015 agreement revealed insufficient inclusion of women and a lack of provisions for increased participation by women in the war's resolution and post-conflict governance reforms.
There is little information on the extent to which women participated directly in the negotiations and the drafting of the text, nor is there information on the role and composition of the Women's Bloc, a signatory of the peace agreement. However, women of the South Sudan Task Force published a demand for the peace process that women should comprise 50 percent of participants at all levels and bodies, a request that was not met. This put the implementation and sustainability of the peace agreement at risk.
In order for a peace agreement's text to be successfully inclusive, it needs to exhibit intentional inclusion of women. The gendered criteria on which these agreements can be judged essentially treats the absence of a mention of women and girls as "gender negative," having some mentions as being "gender neutral," and consistent concern with the needs of women and girls as being "gender positive."
There were some areas in the text that acknowledged some specific needs of women in South Sudan. The section on transitional justice was somewhat extensive in addressing women's needs and participation. However, in the areas of humanitarian aid, economic and financial management, distribution of natural resources, security sector reform and disarmament, and demobilization and rehabilitation, gender-sensitive language in the text falls short in ensuring effective engagement by women. There was no specific language on women in identifying measures for participation, facilitating access to polls, and providing identification documentation to women and internally displaced persons.
In terms of political representation, the 2015 agreement called for very little. It required 25 percent of the Executive Branch to be female but set no requirements for the legislative branch. In addition, the National Election Commission did not guarantee the inclusion of women as members.
Hopes for Peace in 2018
The new peace deal signed on June 27, 2018, calls for a "national army, police and other security organs of an all-inclusive character that shall be free from tribalism and ethnic affiliations." South Sudanese citizens have widely celebrated the peace deal, and August 6th was declared a national holiday marking the event.
However, with millions in the country on the brink of famine and the state economy in shambles, women in South Sudan remain vulnerable to sexual violence and rape. The voice of women is needed in a variety of sectors beyond security, including in humanitarian assistance, governance, and development.
Women's civil society groups have been actively pressing for more representation in the peace process and advocating for a more gender-responsive peace, and prior to 2018, had adopted a seven-point agenda called "The South Sudan We Want," seeking inclusive implementation of the 2015 agreement. In the most recent negotiations, women advocated for a 35 percent presence during the discussions. Now that a deal has been reached without their initial demands being met, it is a critical time to incorporate civil society (and particularly women) in the implementation. It was Assistant Secretary-General of UNDPKO, Bintou Keita, who said, "While the outcome of regional and international efforts to deliver a political settlement is yet unclear, I must reiterate that peace will only be sustained if the revitalized agreement is inclusive, fair, addresses the root causes of the conflict and engages all stakeholders, including women and youth."
As such, Our Secure Future has three key recommendations for the country going forward:
A quota for women's involvement in the implementation of the new peace agreement must be set.
Establish a committee with the power, funding, and technical expertise to ensure and oversee gender mainstreaming throughout the agreement and its subsequent implementation.
Draft and implement a National Action Plan (NAP) on women, peace and security that includes measures not only for women's inclusion in peacebuilding, but also for their involvement in governance, peacekeeping, and policing.
South Sudan has the potential to usher in a historic era of peace. These measures to include women will ensure that peace is sustained.