SECURITY ROUNDUP: How Women in Sudan are Charting a New Course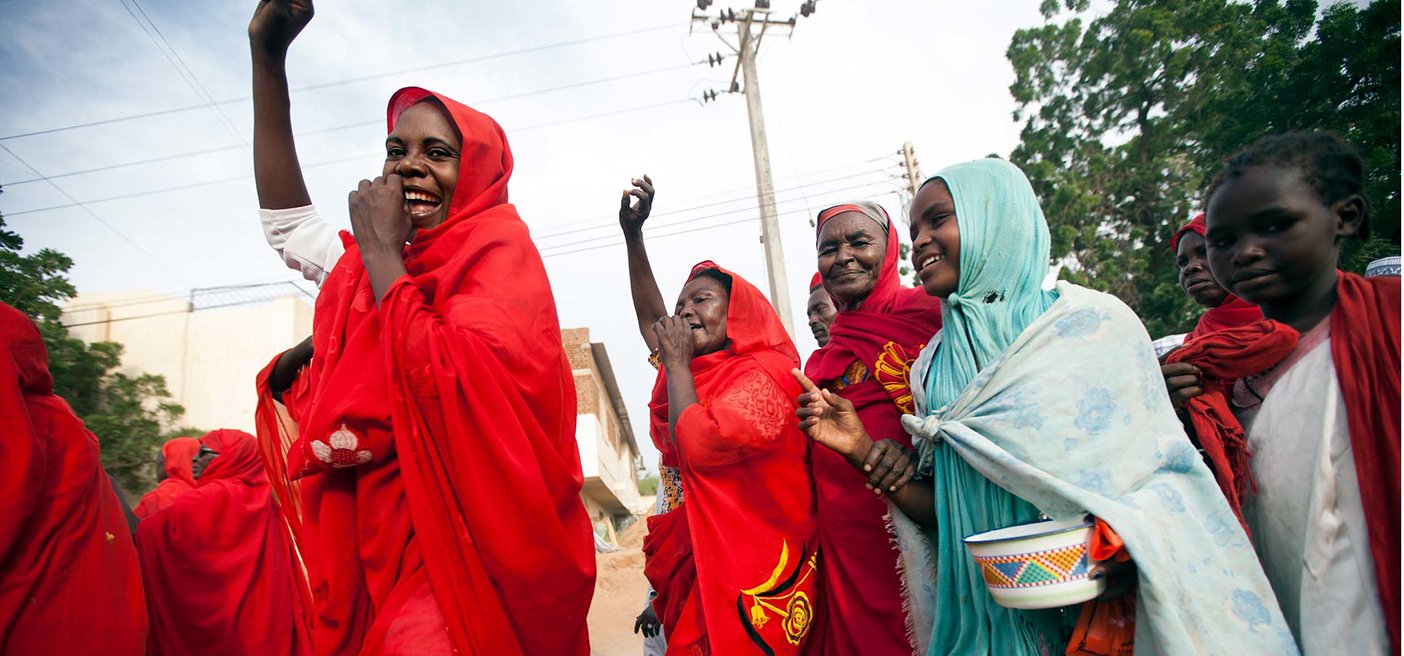 "One way I'm convinced the world is changing for the better, is through the role women are playing in all aspects of life. We see this now, more than ever, women are the backbone of our societies and they will lead us out of this current crisis and into the future."
"So much has changed in Sudan and much has been as the result of the hard work of women. The massive and prolonged street protests that eventually led to Bashir's removal were led by an estimated 70% of women with many people calling it the women's revolution."
"Sudanese women still have an uphill battle. You cannot erase decades of fear and repression, however, women's voices have been heard and Sudan was listening. The world is listening. Women will not go away quietly and the current environment provides the best opportunity for increasing inclusiveness, improving security, and lasting peace."
---
On Tuesday, May 26th, 2020, in partnership with the McCain Institute, Our Secure Future co-hosted the event "Women, Peace and Security: How Women in Sudan are Charting a New Course." The event highlighted the incredible work women peacebuilders in Sudan did to oust former President, Omar al-Bashir, how they are working to create a more inclusive and democratic Sudan for the future, and challenges they face. Introductory remarks by Mrs. McCain were followed by a panel discussion, moderated by Paul Fagan, Director Human Rights and Democracy Programs at the McCain Institute and Sahana Dharmapuri, Director of Our Secure Future. Panelists included:
Ambassador Makila James, Deputy Assistant Secretary for East Africa and the Sudans, Bureau of African Affairs at the U.S. Department of State
Huda Shafig, Program Director, Karama
Susan Stigant, Director of Africa Programs, United States Institute of Peace.
This year marks the 20th anniversary of UN Security Resolution 1325 that ensures the inclusion of women in all peace and security processes, yet women continue to be systematically excluded. We know that the linkage between the inclusion of women and stability of the state is critical: women moderate extremism; they broaden the discussion to go beyond issues of power and territory; and they help prevent a return to conflict. Women must be present in the spaces where decisions are made. Routinely they are not.
Women have a rich history of activism in Sudan. They have been pushing for a more inclusive and effective government for decades. Yet, despite this history, their central role in the overthrow of al-Bashir, and some significant wins in the early part of the transition to democracy, women continue to be excluded and Sudan's transitional government is still far from realizing the inclusive structures that would better protect women's rights and promote security and stability.
The diversity of the panelists, including a woman's voice from Sudan, provided a rich discussion and analysis of what women have been doing, how critical their role is in creating a more inclusive government, and the many challenges they face in building a more secure Sudan.
Ambassador James first spoke about her experience seeing how women in Sudan led the revolution noting that "women and youth played a really pivotal, if not the most significant role in bringing about the peaceful changes that led to the removal of Omar al-Bashir. I really think it would not have happened had women not been so out front and vocal, they were a significant voice in the direction, the tongue, and the consistency of that movement."
She also spoke about how she meets with women every time she travels to Sudan and that during her last visit, while meeting with a group of women activists, she asked why they went out onto the streets during such a dangerous time. Their reply was "they could not wait until the revolution happened and then raise their voices. They had to be a part of the societal change."
Ambassador James also discussed how the Sudanese government has taken some positive steps forward in promoting women's rights including, most recently, ending female genital mutilation, but that there is still a long road to go. She also reiterated the U.S. government's commitment to be a partner to Sudan during this transition by supporting them through various development initiatives including livelihood projects for women and developing transitional justice mechanisms.
Huda Shafig followed Ambassador James' remarks with an on the ground perspective of how women created, shaped, and led the revolution despite years of oppression, violence, and marginalization. She noted that they were not only trying to dismantle the political institution, but also the economic, cultural and social systems that perpetually denied them the right as full citizens. This in part required changing mindsets.
As Huda discussed, women played myriad roles in the revolution as doctors, mobilizers, and protestors. Seeing women play these critical roles "amazingly changed a lot of the perspective and the mindset of the public towards women. Different conversations among generations about what a 'good girl' means now includes being a revolutionary, being brave, and being on the front lines. That's a huge change in the narrative about women."
She went on to discuss the significant wins they achieved including abolishing the Public Order Laws, securing a 40% quota for women, and the eventual creation of the Women and Gender Equality Commission. While these gains are important, Huda reiterated the numerous challenges women face in creating an inclusive government including the lack of capacity within the transitional government; the tenuous balance between civilian and military rule; and the economic crisis.
Despite these challenges, women are actively working to ensure this transition happens and that women's inclusion is part and parcel of the process. As Huda stated, it's not about "giving us something, it's about holding the government accountable for guaranteeing our rights."
Susan Stigant rounded out the panel with her decades of experience working in Africa. Sounding a similar note, Susan said that "this is not a new movement. This is not a new idea. Women's leadership is not new in the country." Further reiterating the important role women have played in the country, "if we look at the way that the change happened in Sudan, it was a moment using this mass mobilization and tools of strategic nonviolent action that allowed everybody to participate. In the past you had armed group conflict and war which is largely left to men, but what Sudan managed to do is to mobilize people across all generations. Across all genders and across various geographies. It was in that space that the hard work and the organizing and the leadership of women that had been taking place for decades before drove itself to the surface."
Also recognizing the tenuous situation, Susan discussed some of the challenges chief among them the need for security sector reform where women help define and shape what security looks like in a new Sudan. This is a critical foundation, "how do you make people feel safer in the communities so they know their lives are better now than before."
Susan ended her remarks by noting the importance of creating a system of governance that is actually participatory and engages women throughout the country. While the transitional government seems to have a real consciousness and awareness that the future of their country sits with them, they must create the time and space to engage civilians in a meaningful way throughout the transition. This in part requires the same level of mobilization and commitment seen during the revolution. "The success of this transition really hinges on being able to activate that same level of participation right from top to bottom of society."
The challenges for implementing a transition in Sudan that is based on the main pillars of the revolution, peace, nonviolence and justice are enormous as it takes more than rescinding laws and standing up structures. If the democratization process is not successfully implemented, it could result in a return to widespread conflict and the opportunity for political, ideological, and religious extremism to once again take hold. The world is looking at Sudan as it has the opportunity for transformative peace, but that rests on its ability to meaningfully engage its citizens, particularly women, in helping to define, drive and create that change.
Check out the highlights below!