Part Two: Rethinking Successful Leadership Traits- Watch the Women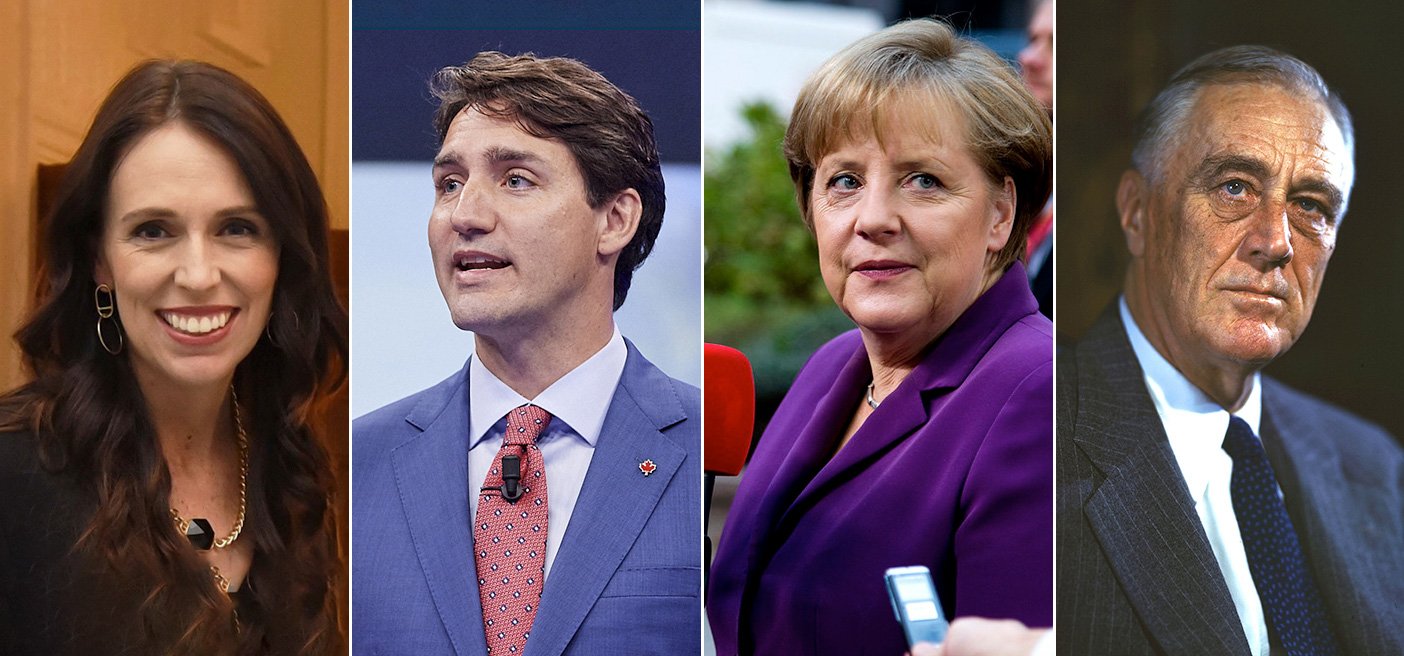 Our Secure Future seeks to promote and raise the voices, thoughts and policy opinions of women around the globe. Particularly when it comes to security, conflict prevention and resolution, and peace. As a guest blog, the views expressed in this publication do not necessarily reflect the views of Our Secure Future or One Earth Future.
---
Addressing the challenges of a pandemic is not the first time that Jacinda Ardern has been praised by both New Zealanders and globally for her leadership. Within a week after shootings at two New Zealand mosques resulting in the deaths of over 50 people in 2019, Ardern decisively announced a ban on the sale of all types of semi-automatic weapons and assault rifles. Parliament backed her, passing the required legislation to make that happen 119-1. She followed up six months later with further gun reforms. Repeatedly, her empathy – stating a sense of unity and shared responsibility for each other in her public and political speeches following the attack – was cited as the reason for gaining the support of even gun enthusiasts.
That same empathy was cited regarding her effectiveness in addressing the COVID-19 crisis in New Zealand. Her messaging was clear, consistent, sometimes sobering, but simultaneously soothing. Former New Zealand Prime Minister Helen Clark explained Ardern's effectiveness in getting people to take responsibility for themselves in containing, reporting and tracking the disease as feeling that Ardern "doesn't preach at them; she is standing with them."
German Chancellor Angela Merkel was trained as a quantum chemist in what was Soviet-controlled East Germany. She is analytic by both nature and education. Having spent the first 35 years of her life in East Germany, she also understands German history well. She knows how power, politics and ego can ravage a country. That has given her a strong sense of self, humility, and fierceness when needed. When it came to dealing with COVID-19, she based her decisions on scientific data, and conveyed them to the German public with transparency and confidence, instilling their trust.
A survey found anxiety and depression levels substantially dropped among the German public during COVID-19 after Merkel gave a rare (as she is known to avoid drama) and remarkable speech on March 18, 2020. It began, "Es ist ernst." (This is serious.) The tone was direct, honest and – again – "searingly empathic." A member of the research team conducting the study stated that "our results highlight the tremendous importance of political leadership for mental health and psychological well-being. Strong and transparent leadership can reduce citizens' anxiety and depression in times of crisis." Merkel also stressed the need for unity of effort, thanking workers on the front lines, and as stated in an article in New York Magazine by Justin Davidson, "without accusations, boasts, hedges, obfuscations, dubious claims, or apocalyptic metaphors she did what a leader is supposed to do: explain the gravity of the situation and promise that the government's help would flow to everyone who needed it."
With low global confidence in U.S. President Donald Trump, Merkel is often now cited as the leader of the free world. Forbes magazine recently stated that three smart women – Merkle, European Commission President Ursula van der Leyen, and European Central Bank President Christine Lagarde, are responsible for leading Europe into a "green" economic future. Women leaders, by the fact that they sought out their positions of leadership, are ambitious. But their ambitions are shown to be equally or more outward directed, than ego directed.
In the United States (US), Democratic Rhode Island Governor Gina Raimondo saw her statewide approval ratings soar during the pandemic. Her level-headed, calm, daily briefings gained the public's trust, and her tough policies resulted in the state having one of the highest per capita levels of testing in the country. Gaining and holding public trust is critical during a health crisis for their guidance to be followed.
While there are leadership trait proclivities among men and women, there are differences among them as well. Some men are considered extremely empathetic and trustworthy, while not all women are considered either empathetic or trustworthy, either by nature or upbringing.
Canadian Prime Minister Justin Trudeau's leadership style has been described as government-by-empathy, for example. US Presidents Franklin Roosevelt and Ronald Reagan were both known for their ability to connect with constituents, thereby inspiring trust. On the other hand, Britain's Prime Minister, Theresa May was not known for either showing empathy, inspiring trust, or compromise, another trait most associated with women. She adopted the norms and traits of those around her – mostly men – in prioritizing power and ego. That proved disastrous for her in trying to navigate Brexit.
Women's leadership doesn't just mean presidents and Prime Ministers. Women leaders at all levels – nurses, doctors, social workers and teachers have shown and used empathy for developing successful policy and processes during the COVID-19 crisis. But Dr. Deborah Birx, a respected physician in her field, lost credibility with her peers and much of the public when she failed to dispute questionable medical advice that was being offered.
Women's leadership expert Gloria Feldt attributed Dr. Birx's #leadershipfail to co-option, where women undervalue their own strength and lose their sense of self to prevailing norms. "Dr. Birx came of age within a culture that undervalues an entire gender, yet she fought her way to achieve her intentions to become a doctor within a male dominated profession. For women who are among the first to enter any profession, obedience to prevailing norms and not bucking the system is how you survive." Feld is careful to differentiate co-option from selling out, as selling out involves personal gain from an action.
Alternatively, Birx has also been characterized as highly successful in achieving power within the Coronavirus Task Force. So perhaps she is ambitious, a trait often considered "unseemly" of women, and decided to take a path to power – toeing the line for the boss, regardless of personal beliefs (and also expected within Brix's prior military career) – a tactic men often rely on but less characteristic of women. If that is the case, then her actions have allowed her to achieve personal and professional goals. Whether that is or should be considered "selling out," for men or women, is debatable.
When the US invaded Iraq and Afghanistan after 9/11 and found that military power wasn't the hammer that solved all problems, General David Petraeus (who had written his Princeton Ph.D. dissertation on counterinsurgency) reminded the military of the value of winning "hearts and minds." Hard power was and continues to be supplemented with soft power. But soft power isn't always the right tool either. Knowing when and how to use each is fundamental to effective policy.
Similarly, effective leaders must know when and how different leadership traits will be most effective and use them accordingly. Ambition, assertiveness, decisiveness, humility, confidence, empathy and trust are all among essential leadership traits. Balance, however, is key. Consequently, perhaps the clearest lesson learned from recent crises is that empathy and trust have been undervalued in recent years as traits of effective leaders.
Today's leaders not only validate that point, but also show that previously gender-associated leadership traits are neither mutually exclusive nor as clearly delineated as in the past. Current global and domestic challenges demand that all leaders up their game through a wide range of leadership characteristics.
---
Joan Johnson-Freese is a University Professor in the National Security Affairs Department at the Naval War College in Newport, Rhode Island. She also teaches courses on Leadership and Women, Peace & Security at Harvard Summer and Extension Schools, and is the author of Women, Peace and Security: An Introduction (2018).
Chuck Houston is a graduate of Harvard Extension School and is pursuing a graduate degree in Data Analytics at Northeastern University. He works in the software industry as a data analyst and has served as a research and teaching assistant in Women, Peace & Security at Harvard Extension and Summer Schools.