OSF and GRREN Celebrate November as National Native American Heritage Month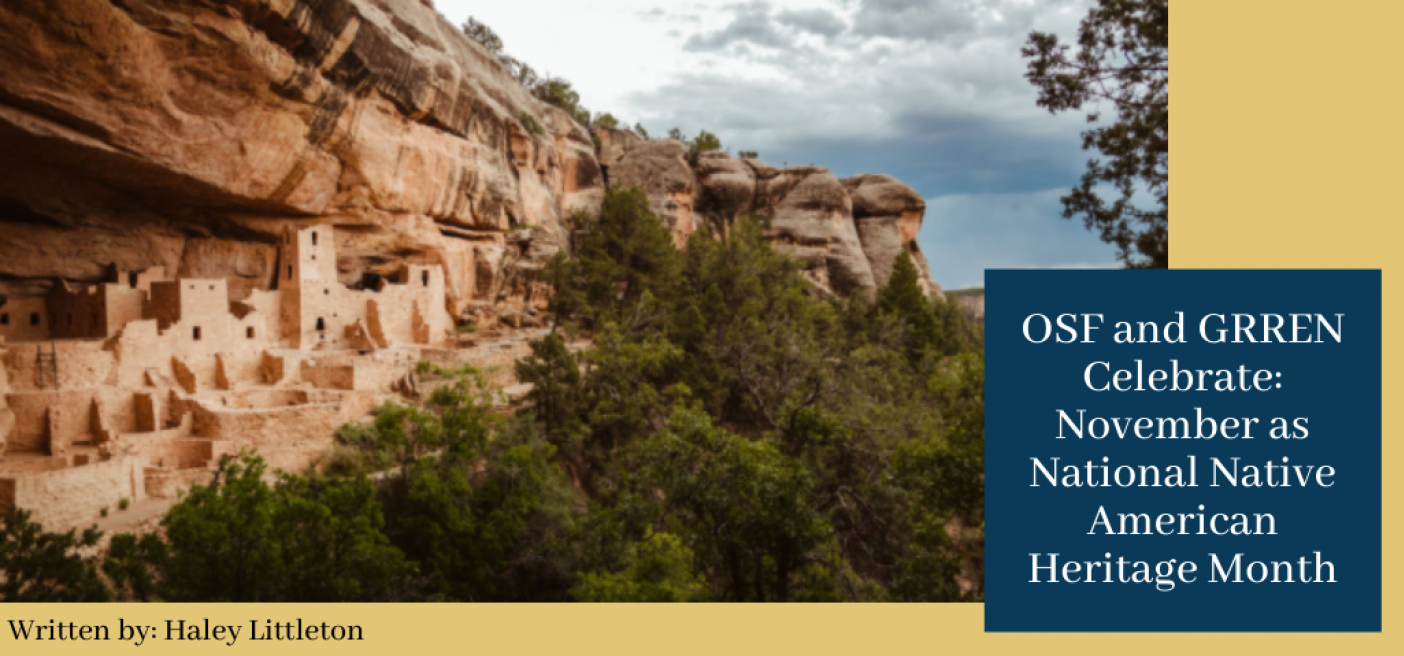 Our Secure Future and the Gender, Race, Religion, Ethnicity, and Nationality committee (GRREN) at One Earth Future celebrate November as National Native American Heritage Month.
Native American Heritage Month was established in an effort to honor the historical record and impact of native peoples in America, their contribution to American society, and their unique sovereign political status and cultural presence in the United States to this day.
OSF, GRREN, and OEF acknowledge that any peacebuilding and security efforts must first recognize the original inhabitants of any community if lasting equality is to be achieved. Many Natives have played critical roles in the advancement of equality and the creation of longstanding peace. We honor their efforts to ensure that the United States works for everyone, especially those who were originally on this land.
It is important to acknowledge that Our Secure Future's office in Washington, D.C. sits on the ancestral lands of the Nacotchtank (or Anacostans) which was a major fishing and trading center for a confluence of several neighboring tribes. One Earth Future's headquarters in Broomfield, Colorado, was populated by the more nomadic Arapaho, Cheyenne, Ute and Očeti Šakówiŋ (Sioux) who used the area known as the "Front Range" for important hunting grounds.
We also celebrate the historic confirmation of Secretary Deb Haaland as the U.S. Secretary of the Interior, the first Native American to serve as a cabinet secretary. She is a 35th generation New Mexican, a member of the Pueblo of the Laguna, and the first Native American woman to serve in Congress. "Secretary Haaland's swearing in is important to our communities, not only as a symbol of our strength but because having an Indigenous woman lead the agency tasked with both overseeing more than 480 million acres of public land and upholding the federal trust responsibility to Tribes provides a unique opportunity," writes Nazune Menka, JD, Tribal Cultural Resources Policy Fellow at Berkeley Law. "Never before have we had a Secretary of the DOI who has a lived understanding of what Tribal sovereignty is and why it is important."
2021's theme for the Department of Indian Affairs' Native American Heritage Month is the "Gifts of our Ancestors: Celebrating Indigenous Knowledge and Cultures." Indigenous culture and knowledge play a key role in Our Secure Future and One Earth Future's peacebuilding ethos and process. Understanding that any real security and peace impact comes from localizing the process, we work to respect, acknowledge, and incorporate local culture into the programmatic work that we do.
In regards to women, the United Nations has compiled research on the role of indigenous women in the Women, Peace, and Security agenda. Learn more here. We also recognize and support the movements fighting for missing and murdered indigenous women. As of 2016, there are 5,172 reporting missing indigenous women in the United States.
Written by One Earth Future staff and GRREN member Haley Littleton.