National Action Plan Case Study: Australia as a Model for Success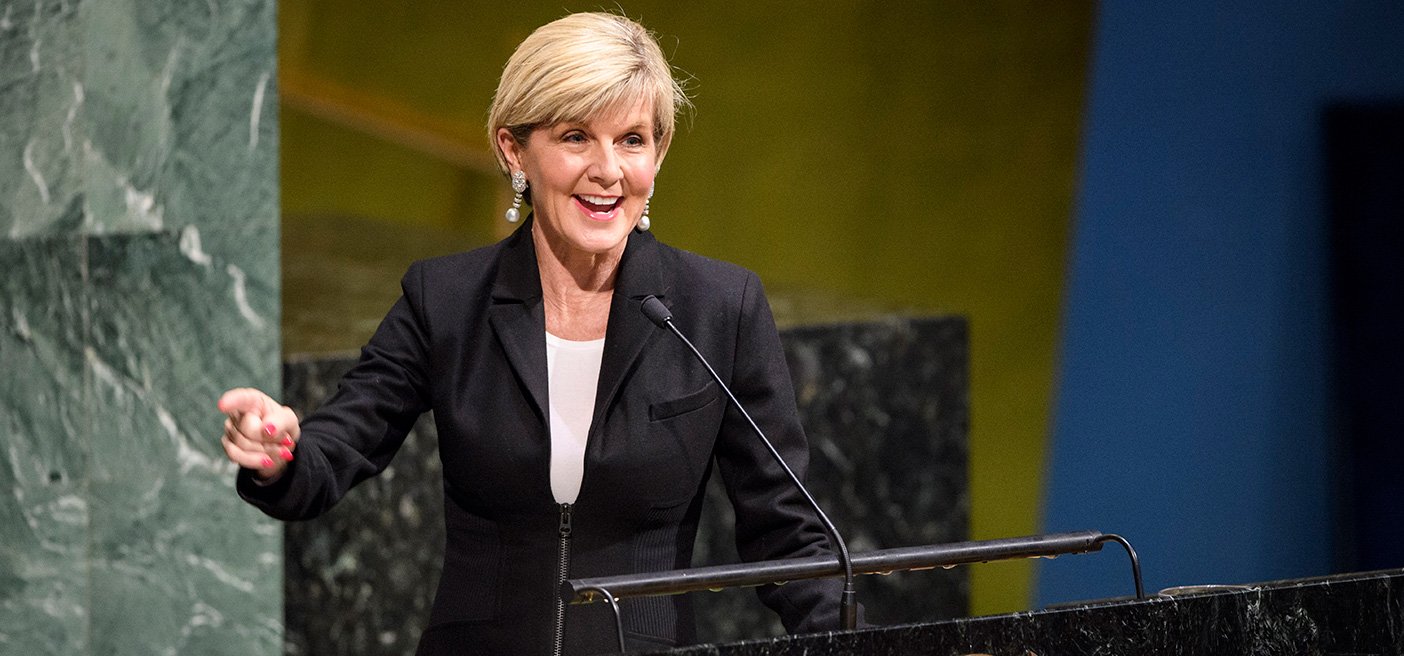 This is the fourth installment in a blog series on civil society engagement with the Women, Peace and Security agenda. The series shares perspectives from multiple focus areas of One Earth Future. Contributors to the series include Alexandra Amling, Kelsey Coolidge, and Catie Fowler. Catch up on your reading for this series with the first three blogs on civil society organizations, the peace process in South Sudan, and funding barriers to Women, Peace and Security.
Australia has the highest ranking of any country in the Asia-Pacific region with a national action plan (NAP) on Women, Peace and Security, according to the Georgetown University Institute for Women, Peace and Security WPS Index. Australia, which is categorized along with other developed countries, has a 99 percent score for women's financial inclusion, an 86 percent score for women's cell phone use, and very low levels of discriminatory norms against women. Furthermore, Australia ranks third highest in the region (after Japan and New Zealand), at 12th in the world, on the 2018 Global Peace Index. This impressive ranking can be attributed to incredibly low levels of violent crime, political instability, and terror and low perceptions of criminality.
When it comes to implementation of the Women, Peace and Security agenda, Australia's NAP has focused internally on increasing women's representation in security institutions, particularly in the Australian Defence Forces (ADF). According to a 2017 report on women in the ADF, the Australian government has been largely successful in this endeavor. Progress has been made in the number of women recruited against service targets, in the reduced recruitment time line for women, in the transfer of women to the reserves, and in the female representation targets overall. However, as outlined by a civil society–produced report card on WPS implementation, progress has been made in implementing the tenets of the WPS agenda externally as well.
As a result, other states in the region will likely look to Australia as a guideline when drafting their first NAP or revising an existing one. A closer look at the country's NAP on WPS reveals the biggest secret to its success has been a strong, consistent, well-supported relationship with civil society actors. The following recommendations reflect just some of the actions to engage civil society taken by the Australian government. They can be replicated to address a diverse range of challenges and tailored to fit a wide range of country contexts.
Mandate civil society engagement

Australia's NAP on WPS goes well beyond a theoretical discussion of the importance of women's full and meaningful participation, to include concrete references to the vital role played by civil society. The NAP highlights the wealth of information civil society can and does bring to the table, and stresses that Australian agencies must partner with civil society actors in order to effectively address the NAP's five thematic areas (prevention, participation, protection, relief and recovery, and normative behavior). In fact, civil society is so ingrained in the Australian approach to WPS implementation that the NAP lists civil society engagement as one of five strategies that "describe what the Australian Government will do to achieve better outcomes for women and girls against each of the five thematic areas." Mandating this type of engagement with civil society is a powerful way to include the voices of peacebuilders working on the ground.

Leverage shadow reporting mechanisms

The Australian government produces its own progress reports on its implementation of the WPS agenda, but it also supports shadow reporting mechanisms from other actors, including and especially civil society. For example, the Australian WPS Coalition and Monash University frequently publish reviews of Australia's NAP implementation, including an annual report card outlining progress and setbacks. The findings in these reports are taken from the Annual Civil Society Dialogue, hosted by the Australian WPS Coalition but supported by the Australian government. Engaging with civil society in this way not only helps to determine what efforts are going well and what efforts can be improved, but provides a vital feedback loop between peacebuilders working on the ground and decision-makers working at the top. This ensures policies are more comprehensive and successful in addressing issues before and as they arise.

Measure progress

Australia's NAP contains a monitoring and evaluation framework, which provides indicators that correspond to the NAP's five strategies for implementation. Such a framework is vital not only to setting a baseline in countries that are implementing their very first NAP but also to measuring progress and setbacks in countries with existing NAPs. Outlining specific indicators also helps to hold government actors accountable to the NAP's overarching goals. In fact, without a structured monitoring and evaluation framework, it is unlikely that civil society would be able to compile report cards such as the one listed above.

Request feedback

The Australian government extended its NAP on WPS via an addendum so that it runs through the middle of 2019. This provided the government with additional time to solicit feedback from civil society. Government representatives attended a series of roundtable discussions with civil society and reviewed additional progress reports from a variety of actors, including the Independent Interim Review of the Australian National Action Plan on Women, Peace and Security 2012–2018. The Australian government's Office for Women even set up an online consultation website, which allows for members of civil society organizations to provide feedback—even if they weren't able to attend one of the roundtable discussions in person. These extensive efforts to solicit information from the whole of civil society help to ensure that Australia's next national action plan will only improve upon the last.
*To learn more about national action plans for Women, Peace and Security, check out our National Action Plan Map!