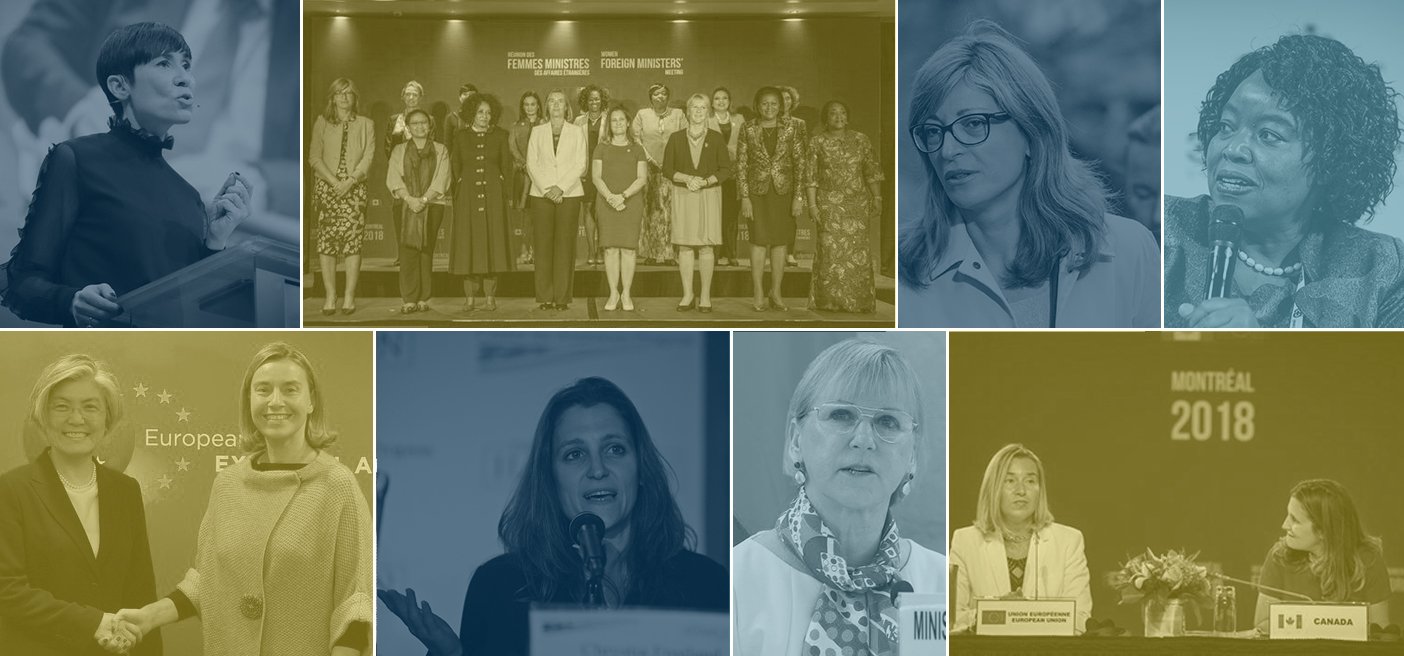 Happy Independence Day to all the women who have worked to make our world a better place! This year, in the spirit of Women, Peace and Security, we want to recognize the female foreign ministers around the world who are in decision making positions. We're throwing it back to the Women's Foreign Minister Meeting of 2018 in Montreal, Canada where they discussed the need for a Feminist Foreign Policy. Today, we celebrate the independence of thought and a vision of security with a gender perspective!
Below we have a short, but not comprehensive, list of current female foreign ministers:
Andorra- Maria Ubach i Font
Australia- Marise Payne
Botswana- Unity Dow
Bulgaria- Ekaterina Gecheva-Zakharieva
Canada- Chrystia Freeland
Croatia- Marija Pejčinović Burić
EU- Federica Mogherini
Ghana- Shirley Ayorkor Botchway
Guatemala-Sandra Jovel
Honduras- Marïa Dolores Agüero Lara
Indonesia- Retno Marsudi
Jamaica- Kamina Johnson-Smith
Kenya- Monica Juma
Liechtenstein- Aurelia Frick
Namibia- Netumbo Nandi-Ndaitwah
Norway- Ine Marie Eriksen Søreide
Panama- Isabel de Saint Malo
South Korea- Kang Kyung-wha
Suriname-Yldiz Pollack-Beighle
Sweden- Margot Wallström
---
Top, from left: Norwegian Foreign Minister Ine Marie Eriksen Søreide, photo: Hans Kristian Thorbjørnsen; Canadian Women Foreign Minister's Meeting, Bulgarian Foreign Minister Ekaterina Gecheva-Zakharieva, photo: Arno Mikkor; Kenyan Foreign Minister Monica Juma, photo: Kuhlmann/ MSC. Bottom, from left: South Korean Foreign Minister Kang Kyung-wha with High Representative of the Union for Foreign Affairs and Security Policy for the European Commission Federica Mogherini, photo: Reuters/Emmanuel Dunand; Canadian Foreign Minister Chrystia Freeland, photo: Alex Guibord; Swedish Foreign Minister Margot Wallström, photo: ANSA/EPA; Federica Mogherini and Chrystia Freeland at the Women Foreign Minister's Meeting, photo: European External Action Service.