Our Secure Future Hosts Event on the Hill for WPS Congressional Report Launch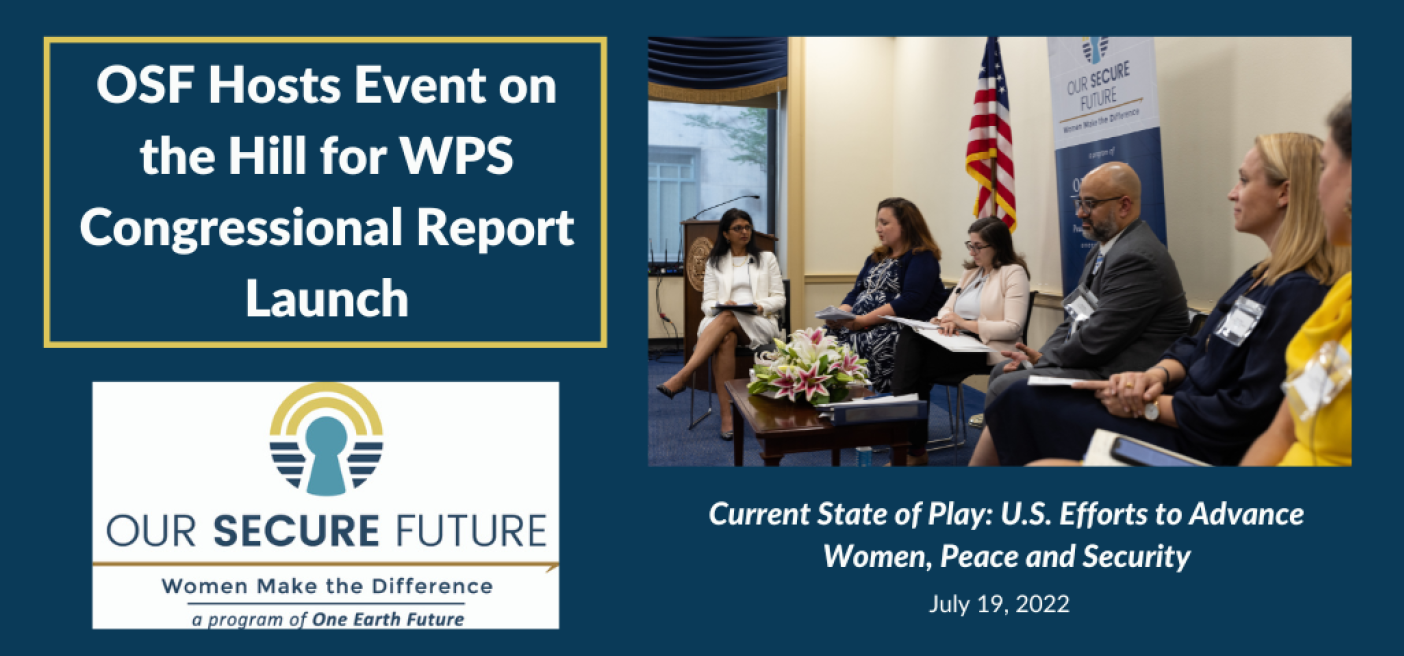 On July 19, 2022, Our Secure Future hosted a closed door in-person event for the launch of the U.S. Women, Peace and Security Congressional Report 2022. The event, titled "Current State of Play: U.S. Efforts to Advance Women, Peace and Security," featured representatives from multiple U.S. government agencies. Opening remarks were made by WPS Congressional Caucus Co-Chairs, Representative Lois Frankel (D-FL) and Representative Michael Waltz (R-FL), Nidhi Bouri (Acting Senior Director for Development, Global Health, and Humanitarian Response Directorate, National Security Council), and Rachel Vogelstein (Senior Advisor, Gender Policy Council).
The speakers' opening remarks highlighted the Congressional support of the Women, Peace and Security (WPS) Act and how the U.S. joins only a select few number of countries with a National Gender Strategy. They also spoke on the importance of allyship with civil society, continued accountability, and the connection between gender equality and improved economic and security outcomes.
OSF director Sahana Dharmapuri then moderated a discussion on progress and priorities of the WPS agenda. The speakers in the discussion included:
Katrina (Kat) Fotovat, Senior Official, Secretary's Office of Global Women's Issues, U.S. Department of State

Jamille Bigio, Senior Coordinator for Gender Equality and Women's Empowerment, U.S. Agency for International Development (USAID)

Claire Russo, Senior Advisor, U.S. Agency for International Development (USAID)

Michelle Strucke, Deputy Assistant Secretary of Defense for Global Partnerships, U.S. Department of Defense

Peter Mina

, Senior Official Performing the Duties of CRCL Officer, Officer for Civil Rights and Civil Liberties, U.S. Department of Homeland Security
In regards to the U.S. Women, Peace and Security Congressional Report 2022, Ms. Dharmapuri posed a question on the gaps and challenges each agency has faced concerning WPS implementation. One such issue addressed in the report is the COVID-19 pandemic, which "present[s] constraints and challenges for diplomatic and programmatic engagement" (p. 17). The speakers pointed out that despite the challenges presented by the COVID-19 pandemic, it has allowed the opportunity to utilize technology to speak with women peacebuilders around the world who wouldn't otherwise be able to travel.
Other gaps and challenges mentioned in the report include an evolving geopolitical environment, such as cybersecurity and technology, food insecurity, masculinity, and climate change. The speakers remarked that all of these factors have an intersection with gender. USAID also called attention to internal barriers for WPS advancement, such as "inflexible funding mechanisms." The report states, "​​The Agency will continue to work on ways to break down the bureaucratic barriers that prevent our ability to provide creative and effective funding mechanisms to support women and girls in conflict and crises" (p. 34). The Department of Defense and the Department of Homeland Security underscored the necessity of WPS and gender analysis training in instilling WPS principles internally.
Questions posed from civil society leaders were included in the discussion. One such question inquired about the importance of turning policy into concrete strategies and impact. The speakers highlighted the need for all U.S. agencies to continually include and find ways to ensure women are in the room, specifically local women civil society leaders. Another point was the prioritization of specific, targeted action plans to move the WPS agenda forward. For example, USAID highlighted the importance of implementing a WPS lens when a crisis first breaks out, not retroactively.
The event concluded with a reception for the speakers and attendees to discuss the report more informally. Read the U.S. Women, Peace and Security 2022 Congressional Report here.