Denver-area NGOs Celebrate United Nations International Day of Peace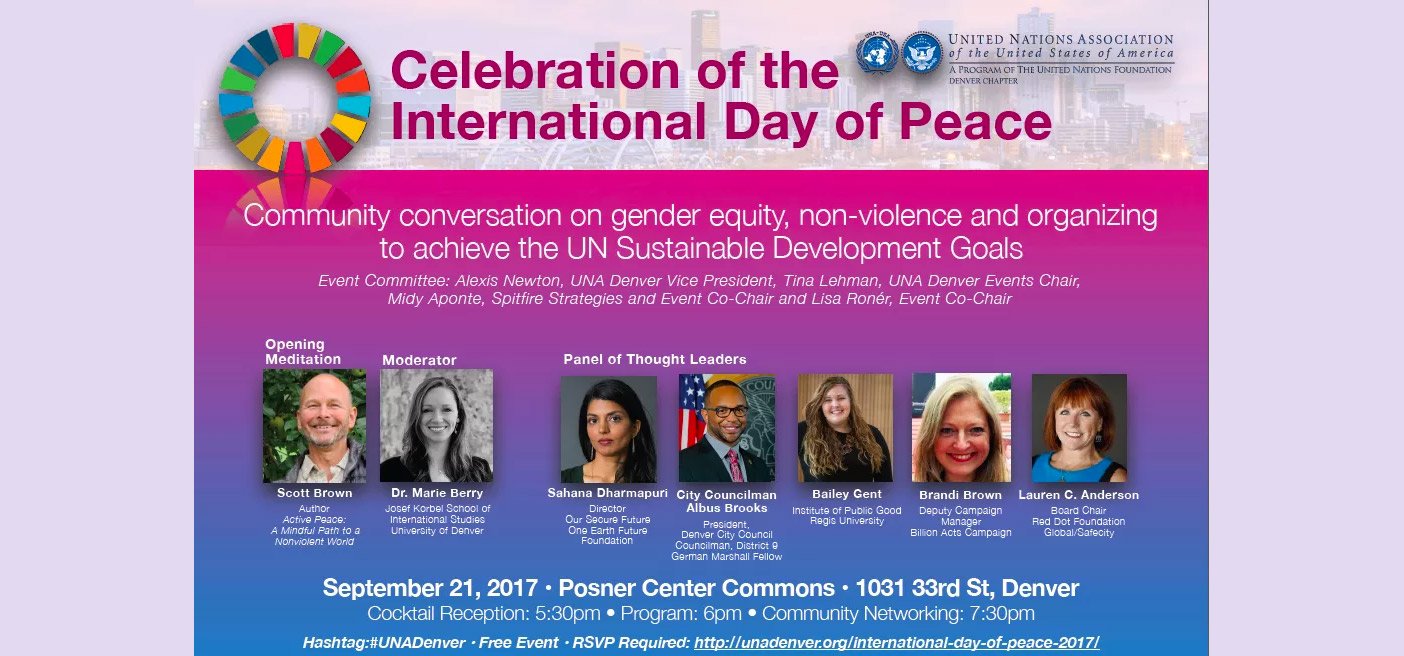 Event Date:
Thursday, September 21, 2017
Event Location: Posner Center, Denver, CO
, United States
SEPTEMBER 19, 2017 - BROOMFIELD, Colo.—On International Day of Peace, Sept. 21, the United Nations Association Denver Chapter (UNA Denver), and Our Secure Future – Women Make the Difference, a program of One Earth Future (OEF) will host a forum at 5:30 p.m. at the Posner Center in Denver.
The event, sponsored by United Nations Association Denver and Our Secure Future – Women Make the Difference, will explore gender equality, non-violence, and organizing to achieve the UN's Sustainable Development Goals (SDGs). The 17 internationally agreed upon SDGs were put in place in 2015 as an action plan to end poverty, protect the planet, and achieve peace and shared prosperity by 2030.
Dr. Marie Berry of the University of Denver's Josef Korbel School of International Studies will moderate two panels of thought leaders including, Sahana Dharmapuri, director of Our Secure Future – Women Make the Difference, and Denver City Councilman Albus Brooks. Panelists will address nonviolence, gender equality and parity, and provide suggestions on how to organize locally to do good work in Denver and to also contribute to achieving the UN's SDGs.
In addition, the Safecity mobile app will debut its U.S. launch in Colorado at this event. Safecity uses crowdsourced data and technology to map public spaces that may not be safe, especially for women, due to indications of sexual harassment and abuse.
The event is free, but an RSVP is requested as seating is limited.
September 21 is International Day of Peace, as established by the UN General Assembly in 2001 to strengthen the ideals of peace among all nations and peoples.
About One Earth Future:
OEF is a self-funded, private operating foundation seeking to create a more peaceful world through collaborative, data-driven initiatives. Through its various programs, OEF focuses on enhancing maritime cooperation, creating sustainable jobs in fragile economies and research that actively contributes to thought leadership on global issues.
Our Secure Future – Women Make the Difference:
Our Secure Future – Women Make the Difference (OSF) believes women make the crucial difference in achieving more effective governance and lasting peace. It works to strengthen the Women, Peace and Security movement and supports the mandate of United Nations Security Council Resolution (UNSCR) 1325.
About United Nations Association Denver:
United Nations Association Denver mission: We are dedicated to educating, inspiring and mobilizing Americans to support the principles and vital work of the United Nations, strengthening the United Nations system, promoting constructive United States leadership in that system and achieving the goals of the United Nations Charter.
###