Notes from the Field: Experts Weigh In on Women, Peace and Security; Interview with Susanne E. Jalbert, PhD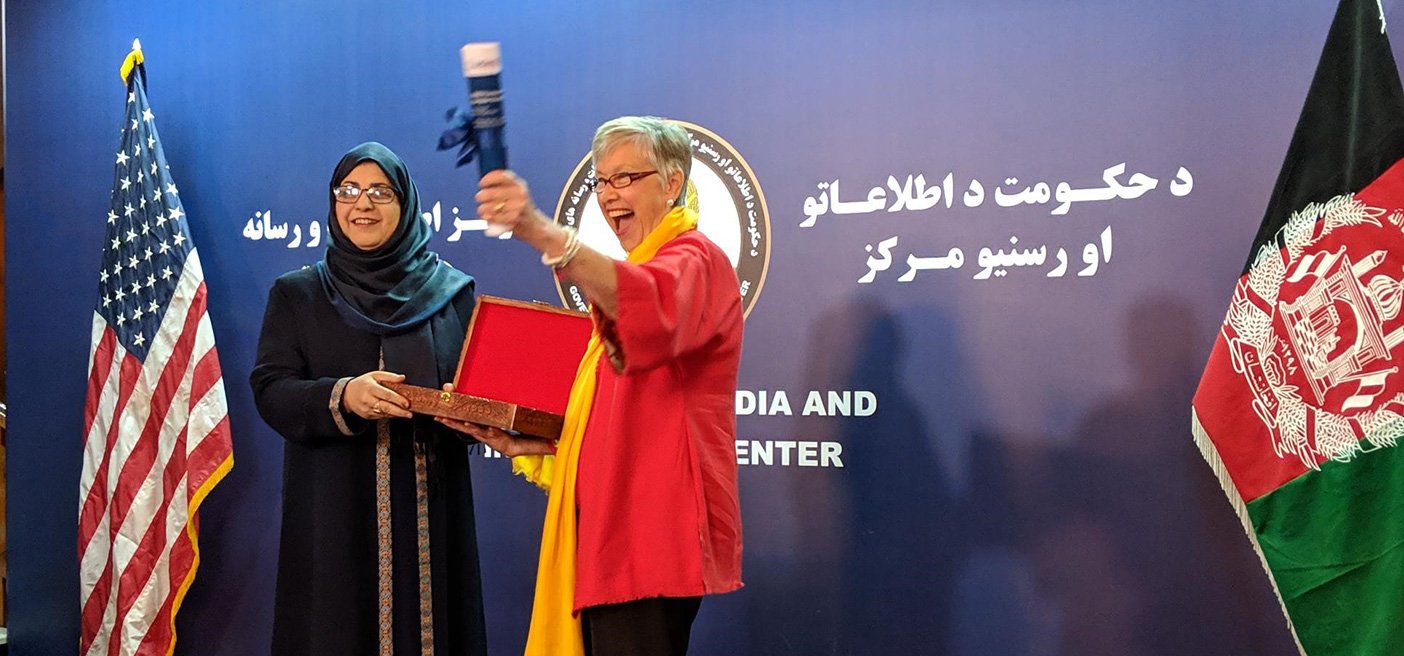 As a veteran global activist, Dr. Susanne E. Jalbert has employed economic development as an essential tool toward a more equitable, safe life. Living at the nexus of conflict and development by working with the United States Agency for International Development (USAID), she has served as a diplomat in Afghanistan at the Herat Consulate, as business services director in Iraq, and as ongoing senior advisor to USAID's implementing partners in developing, transitioning, and conflicting economies.
Currently, Dr. Jalbert is the Chief of Party for USAID-Afghanistan Promote: Women in Government. The project advances and empowers Afghan women by fostering opportunities for professional development for females interested in working with government institutions at the national and subnational levels.
What are you currently working on?
I am currently serving as the Chief of Party for the USAID Promote Women in Government (WIG) project. WIG is one of four components under the Promote umbrella, which is the largest women's empowerment project in the US government's history. WIG is tasked with specific work to promote women in society in Afghanistan. My project's focus is on leadership development for women in government.
The Women in Government project is tasked with three components. One is increasing the number of women that are currently represented in civil service. WIG is specifically focused on expanding women's representation in the civil service to ensure that the Afghan government can respond to the needs of all citizens—men and women. Bringing more women into the government will further contribute to stability and sustainable governance, and thus peace, in a country that has been plagued by conflict and inequality for more than 40 years. The employment numbers are currently quite low. Women hover somewhere close to 22 percent throughout the Afghan government, both on the national and subnational levels. The goal is to raise women's representation in government to 30 percent, and a subset of that goal is to raise it by 2 percent annually. It's a tough road. The Government of Afghanistan is not reaching those percentages right now.
The second component is policy, which intends to address implicit biases against women that exist in the institutionalized system. Number three is multimedia messaging for greater acceptance of women in the workplace. We're trying to change decades of bias and deeply embedded societal and cultural norms, but we do really feel that we'll make a significant difference through this program.
So far, we have enrolled 3,901 women in the year-long internship program, which is 30 percent over our target, and helped more than 520 women to get jobs. We've supported the development and implementation of 11 policies and regulations and implemented hundreds of communications campaigns. I'm thrilled to be integral to this project.
What is the thing you want to change the most in the world?
Unquestionably, it's inequality. I see that as a harbinger for so many ails in our world. That's been my number one priority for 30 years. I'm still working toward it! There is no shortage of work.
How do you use Women, Peace and Security and UNSCR 1325 in your work?
Resolution 1325 is an important aspect of our work. Let me give you a direct example related to our policy component. We were tasked by the Afghan government to write the national gender policy. We submitted it to the Ministry of Women's Affairs (MOWA), and they came back to us saying we were on the right track. MOWA now wants us to advise them on the new National Action Plan for the Women of Afghanistan. That's a government policy statement that will guide the federal and subnational provinces across Afghanistan for the next decade.
The policy is called the National Action Plan for the Women of Afghanistan or NAPWA. The first NAPWA expired on December 31, 2019, so we're excited to be working on NAPWA number two. This policy will then guide, holistically, the government's work with gender equality and social inclusion for the next decade. That was a long explanation to say how UNSCR 1325 is involved. It's one of the framing instruments along with CEDAW [the Convention on the Elimination of all Forms of Discrimination Against Women] and a whole list of international instruments that help Afghanistan to frame their national work toward gender equity. We've used these important tools in the past when WIG has supported the adoption of Afghanistan's Anti-Harassment Law, the country's policy on increasing women's representation in civil services, and numerous training materials and guidance documents.
The NAPWA has to be approved by all of the women's NGOs in Afghanistan. They must be deeply involved in this process. That means this policy needs to translate not just to the national level but also to the subnational level, into the community and district levels, and into the family units themselves.
Involvement at multiple societal levels is where all our task orders are so important, which include all four projects: Women in the Economy, Musharikat, Women Leadership Development, and Women in Government. Musharikat works to strengthen women's NGO communities. They have built topical coalitions that bring women's organizations from around the nation together at roundtables to discuss issues such as Women, Peace and Security; education; and integrating women into business. They can take on these issues, build them into grassroots movements, and determine how to strengthen coalitions. All the task orders work very closely together to push these policies both down to the grassroots level and back up to the national level.
What keeps you up at night?
Inequality! It makes me insane! There's just so much of it at so many levels. Which piece of it do I work on today? You can work on economic inequality, political inequality, social inequality. For me, it often comes to economics. I mean, it's simple. Let's take women or war widows, for example. If women can't put bread and milk on the table, nobody is going to eat and nobody's going to be educated. If you can start right there with one simple economic intervention, you are going to change things in people's lives, the mom, the boy, the girl, and ultimately the community. It's about economics in this project as well because our intervention is getting more women into civil service. Take the multiplier effect. Our target was 3,000 young women to integrate into civil service, and in fact, we've enrolled 3,901. If you take that number of young women and multiply it by the amount of stipend that they receive, and you multiply that again by seven—the average number of people per family—that's the extrapolated number of lives impacted through that one young woman enrolled on our internship program.
The calculation would look like this: Across 3,901 interns, WIG has invested approximately $3.7 million in internship stipends, including the year-long internship and supplementary training programs. This represents roughly $958 per intern over the course of a year. Note that this amount is above the average household income of $173 in 2017 as reported by the Asia Foundation. Even this small amount contributes significantly to interns' sense of economic independence. Indeed, stipends allow interns to financially contribute to their families, thus demonstrating the vital value of women's work outside the home. Using a conservative estimate of average household size (seven household members), WIG's investment has impacted approximately 27,307 individuals at $136 per person. This multiplier effect creates a direct economic incentive to support women's participation in the civil service by showing family members and heads of household the financial benefit of women working.
What has surprised you the most about this work?
Afghanistan is a surprise a minute. We had election day here on October 20th [2018]. The elections shut down my staff for three days because the security situation was so intensive here. We know that 137 bombings occurred across the nation. That's what we could count. We know that there are more that we couldn't count. To keep my team safe, I had them stay at home and work from home if they could, but a lot of them don't have internet. What surprises me is that despite all the time and energy and money that we have put into this country, there is still this high degree of insecurity. It's both frustrating and heartbreaking every single day.
The positive side is that the strength and the motivation and the dedication of Afghan women are phenomenal. If you look at what they've been through, especially the last 40 years of war, women have been totally disenfranchised from political, economic, social life, and yet every day they get out of bed and continue to strive for equity. They're striving for parity in a deeply divided society, and yet women see that they are the changemakers. They bring their best effort forward every single day.
Another thing that has surprised me is that of our 114 WIG employees, about half of them are men, who stand side by side with their women colleagues. The champions are out there. We have to work harder to find them. We must help educate them. But they are there, and I can see that so clearly with my team as they work together daily.
In July, I hosted an all-team retreat with all 114 people in the same room at the same time from our five provinces including Herat, Balkh, Kabul, Kandahar, and Nangarhar. I wanted to do something to inspire them. I wrote a note to Khaled Hosseini asking him to write something inspirational for my team. Who better for inspiration than this famed author? One of his quotes said, "There isn't in the world a more resilient group than the women of Afghanistan." The team loved it! I think Hosseini is so right about that statement.
What should we pay attention to now?
The connection between grassroots movements and top-level policymakers is so important. Drawing from the family and the community unit and the subnational levels and pushing up to the top national policymakers is crucial, so that everyone feels engaged.
We also need to pay attention to the voices of women. Look at the case of Afghanistan. For far too long, in Afghanistan especially, women have been excluded from all levels of the decision-making processes that directly affect their lives. It's time to stop and listen to what women need to say.