Women, Peace and Security Timeline: 1945-2017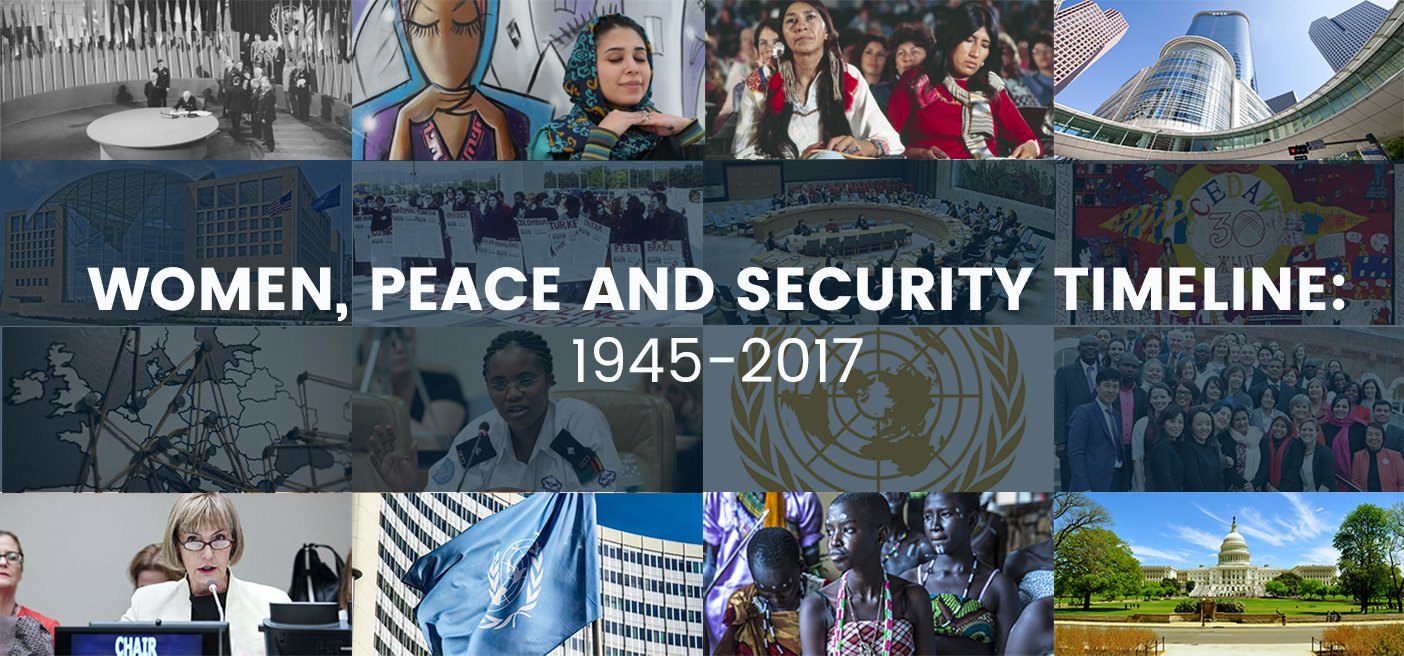 This week's blog looks at the trajectory of Women, Peace and Security, a movement over seven decades in the making. The following timeline highlights significant events from 1945 to 2017.
---

1945: The United Nations Charter is adopted creating the UN Security Council and giving it power and responsibility to take collective action and maintain international peace and security.
---

1973: The Percy Amendment is adopted by the United States Congress and for the first time explicitly addresses women's role in the development process laying the foundation for women's integration into peace and development.
---

1976: The US National Commission on International Women's Year established by Congress after the First UN World Conference on Women in Mexico City and includes numerous recommendations on full integration of women into all aspects of foreign policy.
---

1977: The US National Plan of Action developed after 50+ state conferences and a National Women's Conference in Houston, TX. Strong recommendations made re-emphasizing the importance of women being represented in foreign policy activities.
---

1979: United Nations approves CEDAW (the Convention on the Elimination of Discrimination Against Women) which states that all parties will guarantee women's equal "opportunity to represent their government at the international level and to participate in the work of international organizations."
---

1984: Institute of Peace Act is passed by Congress, promoting international peace and the resolution of conflicts among the nations and people of the world without the use of violence.
---

1992-1995: UN World Conferences on social development; Environment (1992); Human Rights (1993); Population (1994) and Fourth World Conference in Beijing (1995).
---

1998: San Francisco becomes the first US city to pass a CEDAW city and county ordinance and establishes a Department on the Status of Women. This initiates the "Cities for CEDAW" movement in the US.
---

2000: UN Resolution 1325 adopted by the UN Security Council and addresses not only the inordinate impact of war on women, but also the pivotal role women should and do play in conflict management, conflict resolution, and sustainable peace.
---

2008: UN Resolution 1820 is championed by the US government and declares that rape and other forms of sexual violence in conflict can constitute war crimes, crimes against humanity or an action of genocide. It is followed by four additional resolutions expanding on the issues established under Resolution 1325.
---

2010: The US National Security Strategy includes goals for gender integration and recognizes that countries are more peaceful and prosperous when women are accorded equal rights.
UN Women is established with the Women, Peace and Security portfolio defined by the UN.
---

2011: US National Plan of Action on Women, Peace and Security and Executive Order 13595 combine. The NAP outlines US government commitments toward: ensuring that women participate more fully in peace negotiations and reconstruction; protecting women and children from harm and abuse in conflict-affected areas; promoting women's roles in conflict prevention; and addressing the needs of women and girls in disaster and crisis response.
---

2012: The US Women, Peace and Security Act is introduced in Congress and re-introduced in 2014. It promotes women's meaningful inclusion and participation in mediation and negotiation processes in order to prevent, mitigate, or resolve violent conflict and implements the US National Action Plan on Women, Peace and Security.
---

2013: The UN Peacebuilding Commission adopts a declaration entitled "Women's economic empowerment for peacebuilding," acknowledging the need for women's direct participation and economic empowerment for sustainable peace.
---

2015: The UN General Assembly declares June 19 the International Day for the Elimination of Sexual Violence in Conflict.
---

2017: The US Women, Peace, and Security Act is enacted into law.
---
Photo Attributions:
1945: San Francisco Conference: The United States Signed United Nations Charter; Photo by United Nations Photo; 1973: Afghan graffiti artist Shamsia Hassani poses next to her image about Afghan women at the launch of USAID's largest gender program, "Promote," pledging $216 to female empowerment in Afghanistan; Photo by USAID Afghanistan ; 1976: Participants at the 1975 World Conference on International Women's Year in Mexico City; Photo by UN Photo/B Lane ; 1977: Houston Fisheye; Photo by Thomas Hawk ;1979: CEDAW Logo; 1984: The US Institute of Peace Building in Washington, DC; Photo by Ron Cogswell; 1992-1995: Demonstration outside of the Vienna Conference Center at the World Conference on Human Rights in 1993; Photo by UN Photo/A Rauscher ; 1998: San Francisco's Golden Gate Bridge; Photo by Ilirjan Rrumbullaku; 2000: UN Security Council unanimously adopts Resolution 1325; Photo by UN Photo/Milton Grant; 2005: Satellite image of Denmark; Photo by European Space Agency ; 2008: A UN police officer addresses a roundtable event on Resolution 1820 in 2009; Photo by UN Photo/Jenny Rockett ; 2010: Secretary-General Ban Ki-moon swears in Michelle Bachelet as the first Under-Secretary-Gender for Gender Equality and Empowerment of Women (UN Women); Photo by UN Photo/Mark Garten ; 2011: Attendees gathered at the National Action Plan Academy in 2014, three years after the passing of the first US NAP; Photo by Inclusive Security ; 2012: United States Capitol Building in Washington, DC; Photo by Jack Parrott ; 2013: Vesna Pusić, Minister for Foreign Affairs of Croatia, chairs the High-level Meeting on Women's Economic Empowerment for Peace-building; Photo by UN Photo/Sarah Fretwell ; 2015: South Sudan commemorates International Day for the Elimination of Sexual Violence in Conflict with theater play by the students at Juba Secondary Day School; Photo by UNMISS ; 2017: American flag; Photo by Ramón Durán