Summer Reads: Notorious RBG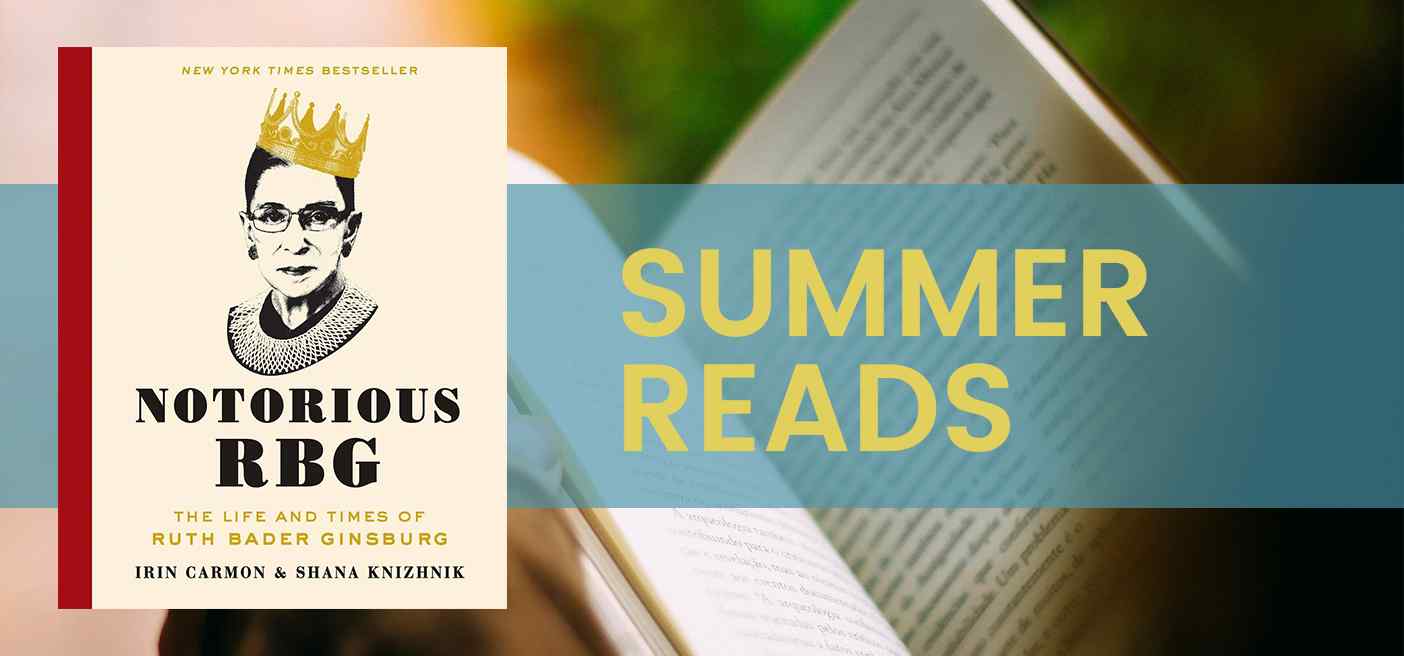 "Just as I don't think that men are the superior sex, neither do I think women are. I think that it is great that we are beginning to use the talents of all of the people, in all walks of life, and that we no longer have the closed doors that we once had." -Ruth Bader Ginsberg
Up next on our list of great summer reads is the New York Times best-seller, Notorious RBG, the Life and Times of Ruth Bader Ginsburg, by Irin Carmon and Shana Knizhnik. Carmon, a national reporter at MSNBC, and Knizhnik, the creator of the Notorious R.B.G. Tumblr account and recent graduate of the New York University School of Law, paint a vivid picture of Bader Ginsburg's unassuming intellectual prowess and her unwavering commitment to the law.
The book, interspersed with annotated judgements and photos from her life (both personal and professional), and tied together with quotations and first-hand accounts, cleverly relies on lyrics from the late Notorious B.I.G. himself to title each chapter (a literary flourish we have humbly adopted in this post). As the authors note, the contrast between RBG and Notorious B.I.G. knows no bounds: "the elite court and the streets, white and black, female and male, octogenarian and died too young." Yet, there were important similarities—namely that, "[l]ike the swaggering lyricist, this tiny Jewish grandmother who demanded patience as she spoke could also pack a verbal punch." We chose to highlight this book because RBG herself provides a poignant example of the main tenets of Women, Peace and Security (WPS) in action, even if her work began decades before UNSCR 1325 was adopted in 2000 and the WPS agenda was officially formalized.
BEEN IN THIS GAME FOR YEARS
Those who know even a very little bit about the life and career of Ruth "Kiki" Bader Ginsburg, know her reputation precedes her. She took her mother-in-law's sage advice that sometimes, it helps to be a little deaf, as she consistently and quietly rose above each and every challenge that stood in her way. Despite the diversity of her efforts, occasionally perceptions of RBG tend to conflate all of her work with women's rights, when in reality, she has worked tirelessly to promote fairness and inclusivity across a much broader spectrum of issues.
Even with an expansive history of awe-inspiring work to choose from, we were particularly drawn to the authors' discussion of RBG's role in the case of Weinberger v. Wiesenfeld. As Carmon and Knizhnik note, Bader Ginsburg believes unapologetically in the necessity of involving men in the battle for gender equality.
This topic is near and dear to our own hearts, particularly as we are in the final stages of finalizing a report on the challenges and opportunities to engaging male leaders in WPS. In light of this fact, perhaps our decision to highlight RBG's experiences in this realm instead of another is a bit selfishly motivated. Regardless, we feel that if RBG herself believes so strongly that men should also be present in conversations on gender equality, any extra attention paid to this incredibly important dialogue can only prove to be beneficial.
STEREOTYPES OF A LADY MISUNDERSTOOD
Carmon and Knizhnik note that the plaintiff in Weinberger v. Wiesenfeld, Steven Wiesenfeld, was one of RBG's favorite clients. After his wife, Paula, died in childbirth, Wiesenfeld found himself unable to collect the Social Security benefits she had accrued as a teacher. The simple reason why he was denied the ability to collect these funds (even, unbelievably, on behalf of his young son): he was a man. As RBG cunningly argued before the court, "[f]or the sole reason that appellee is a father, not a mother, he is denied benefits that would permit him to attend personally to the care of his infant son, a child who has no other parent to provide that care."
Following her victory, RBG wrote that the case was "part of an evolution toward a policy of neutrality—a policy that will accommodate traditional patterns, but at the same time, one that requires removal of artificial constraints so that men and women willing to explore their full potential as humans may create new traditions by their actions." Following her work on Wiesenfeld, RBG continued in her commitment to true gender equality by taking not one, but four additional gendered cases between 1976 and 1979.
BUT I JUST CAN'T QUIT
The main point here isn't that RBG was a champion of equal rights for men as well as women, although the importance of that fact should certainly not be overlooked. Rather, the more intriguing fact is that as a direct result of cases such as Weisenfeld, and during her time with the Women's Rights Project, RBG "perplexed and even angered some of her allies by bringing so many cases with male plaintiffs." Even amongst progressive circles, close-mindedness continued to run amuck. RBG simply continued to set her critics straight, by explaining that her work was not for women's liberation, but rather for "women's and men's liberation."
We're honored and inspired to be continuing on the trail originally blazed by RBG herself. Additionally, we're humbled by the eloquent reminder that WPS is not a zero-sum game between the sexes, and are aware of just how much progress has yet to be made. Furthermore, we hope that in continuing with our own research we can tap into the same determined passion that RBG has employed for years. We're going to need it.
Watch our homepage for more on our upcoming report: Not the Usual Suspects. For further reading on RBG, check out My Own Words, Ruth Bader Ginsburg, by Mary Hartnett, Wendy W. Williams, and RBG herself.